Who knew such a small symbol could make such a big difference?
If you didn't get a bucket of ice-cold water poured down the back of your neck during the summer of 2014, you definitely weren't doing social media right. The #IceBucketChallenge was one of the most prominent "hashtag activism" campaigns of all time, and with $115 million raised for ALS research by over 17 million participants, it evidently made waves throughout the world.
"Hashtag activism" is a term that was coined by The Guardian in 2011 to describe the Occupy Wall Street protest and the corresponding hashtag campaign, #OccupyWallStreet. Since then, hundreds of hashtags have been created to build communities of activists eager to share information and raise their voices. Hashtags allow protesters to show friends and family that they support a certain stance, while also allowing for easy retrieval of other posts made using the hashtag on social media platforms such as Twitter, Tumblr, Instagram, and Facebook.
Hashtags get a lot of flak, often typecast as frivolous symbols used by lazy millennials, but a deep dive into the hashtag activism of the past few years proves that they can be more powerful than you'd expect. Here, we present a timeline of the most prominent hashtag activism campaigns since #KONY2012 shook the nation, coming full circle with Parkland's #NeverAgain. Get ready for a walk down #memorylane.
MARCH 2012
#KONY2012
On March 5, 2012, a company called Invisible Children, Inc. released a short documentary film entitled, KONY 2012. Soon, it was everywhere. The video was disseminated with the intention of raising awareness about Joseph Kony, a Ugandan cult and militia leader who forced children to become child soldiers. Invisible Children, Inc.'s mission was to capture Kony by the end of 2012, and called for a world-wide canvassing event called "Cover the Night" in order to spread the message. The video gathered over 101 million views on video-sharing sites, and the hashtag #KONY2012 was born. Social media allowed the campaign to spread like wildfire. Pew Research Center found that 66% of all Twitter conversations from March 5 to March 12 pertained to the KONY 2012 movement. The attention it received was truly mind blowing…until people just stopped caring and the film's director, Jason Russell, was hospitalized for a temporary psychotic breakdown. Update: Kony is still alive.
NOVEMBER 2012
#1ReasonWhy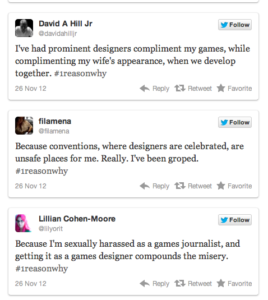 On November 6, 2012, a Kickstarter game designer named Luke Crane tweeted out a simple question: "Why are there so few lady game creators?" Lucky for Crane, Twitter users were chomping at the bit to answer him. The next 24 hours saw thousands of women responding to his question with the hashtag, #1ReasonWhy, sharing stories of sexism and exclusion in the gaming industry. By the end of the month, it had been mentioned more than 15,000 times on Twitter. Some men even took a stand, tired of the way their female counterparts were treated in the workplace. For example, @machineiv tweeted, "I've had prominent designers compliment my games, while complimenting my wife's appearance, when we develop together. #1reasonwhy." The hashtag activism shed light on blatant misogyny apparent in the video game industry. The campaign even spurred many female designers to offer their expertise to those women struggling to make it in the field, with the hashtag, #1ReasonMentors.
DECEMBER 2012
#IdleNoMore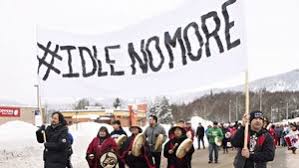 The Idle No More campaign is a grassroots protest founded by three Indigenous Canadian women: Nina Wilson, Sylvia McAdam, and Jessica Gordon, and one non-Indigenous ally, Sheelah McLean. The Idle No More campaign, and subsequent hashtag, was created as a response to abuses against Aboriginal rights by former Canadian Prime Minister Stephen Harper, specifically omnibus bill C-45, a bill which would give the Ministry of Aboriginal Affairs undue influence over First Nation's land. The protest is ongoing, and has even made its way into other countries, with 82 protests occurring in the US alone. The campaign aims to garner respect for Indigenous rights and treaties in Canada, while preventing environmental degradation and social and economic inequality. At peak times, #IdleNoMore receives about 144,000 mentions on Twitter per week, especially when there are staged protests, when it receives upwards of 20,000 mentions per day. With this hashtag, social media users hope to capture the attention of government officials in order to protect Indigenous land and traditions for future generations.
JULY 2013
#BlackLivesMatter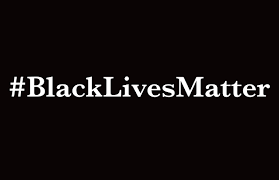 The #BlackLivesMatter hashtag was created by activists Alicia Garza, Patrisse Cullors, and Opal Tometi in 2013 in response to the acquittal of George Zimmerman, who shot and killed Trayvon Martin, an African-American teen in Florida. The Black Lives Matter movement raises awareness about systemic racism towards African-Americans, and condemns police brutality and racial profiling. A month after Zimmerman was acquitted the hashtag had been shared 52,000 times on Twitter, and by June of 2014, that number had skyrocketed to 41 million. The movement, which started on Twitter, has shifted to the streets, as Black Lives Matter also holds regular protests following acts of police brutality against blacks, such as in the cases of Michael Brown in Ferguson, and Eric Garner in New York City. The #BlackLivesMatter movement has garnered mainstream media support, but has also received much criticism. The counter-hashtag #AllLivesMatter, for example, was created by critics who said that #BlackLivesMatter ignores inter-racial violence.
DECEMBER 2013
#NotYourAsianSidekick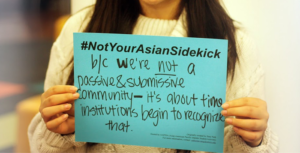 The #NotYourAsianSidekick hashtag campaign was started in early December 2013 by freelance writer Suey Park, who tweeted that she was "tired of the patriarchy in Asian-American spaces and sick of the racism in white feminism." Within two days, it was used more than 50,000 times. The movement was intended to give stronger voices to Asian-American women, and ended up uniting thousands of them over social media sites, particularly Twitter. The hashtag spurred conversation about the stereotypes that Asian-American women are often straddled with, as well as the underrepresentation of Asian-Americans in the media. The hashtag became a circle where these women could tell their stories, and feel some comfort in the solidarity, while bringing awareness to the mainstream media about their misrepresentation. It was dubbed a civil rights movement, building a base of strong Asian-American women across the nation.  
APRIL 2014
#BringBackOurGirls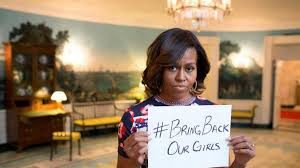 The #BringBackOurGirls campaign was created by the former FLOTUS, Michelle Obama, in response to the horrific kidnapping of 276 Chibok schoolgirls in Nigeria by Boko Haram, a radical Islamic terrorist group based out of West Africa. The hashtag campaign was intended to keep the story in the media, and raise awareness on an international scale. It was also pointed at the Nigerian government, urging them to do more with their resources. Currently, 113 of the girls are still missing, and the hashtag has been retweeted over 2 million times.
MAY 2014
#YesAllWomen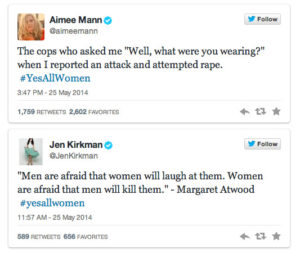 The #YesAllWomen hashtag came as a result of the 2014 Isla Vista killing spree, in which a 22-year-old man killed six people and injured 14 near the University of California, Santa Barbara campus. The killer was found to have a painfully misogynist social media presence. He uploaded a video to YouTube before the massacre explaining that he hated and wanted to punish females because they always rejected him and he could never find a girlfriend, and men because he was jealous of those who had sex with women. Soon, people took to Twitter with the hashtag #NotAllMen, arguing that sexism is not to blame, because not all men would commit a crime like this. An anonymous female on Twitter shot back at #NotAllMen with #YesAllWomen, urging women to share personal stories of sexual harassment and discrimination. The hashtag campaign raised awareness that misogyny is not only incredibly prevalent, but that it is often committed by friends and acquaintances. Within four days of the hashtag being created, it was used more than 1.2 million times on Twitter alone.
JULY 2014
#IceBucketChallenge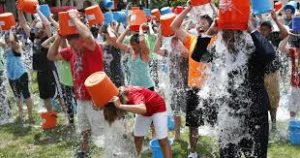 As previously mentioned, the #IceBucketChallenge, or #ALSIceBucketChallenge, was all the rage in the summer of 2014. Created to raise awareness and funds for amyotrophic lateral sclerosis (ALS), the rules were as follows: soak yourself, or have someone else soak you, with a bucket of ice water, whilst getting filmed. You then had to nominate someone else to do the challenge, and they had 24 hours to complete it, or they could forfeit by way of a donation towards ALS research. It is unclear who exactly started the hashtag campaign, but many celebrities took part, including Justin Bieber, Lebron James, Donald Trump, and George W. Bush. The challenge raised $115 million in 2014, and over $1 million in 2015. In July of 2016, the ALS Association announced that the University of Massachusetts Medical School had found a third gene associated with the cause of the disease thanks to funds raised as part of the #IceBucketChallenge. This breakthrough has allowed them to further target their research for drug and therapy development, in hopes of finding a cure.
SEPTEMBER 2014
#AmINext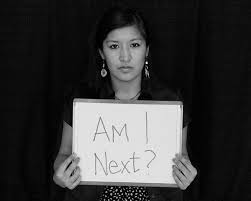 The #AmINext hashtag was launched on September 5, 2014, a social media campaign intended to raise awareness about the startlingly high rates of missing and murdered Indigenous women in Canada. The campaign was created by Holly Jarrett, an Inuit Canadian woman who was called to action after her 26-year-old cousin, Lorraine Saunders was killed in the spring of the same year. The campaign asks women to take a picture of themselves with a sign that reads #AmINext. Jarrett intended the campaign to call out Stephen Harper, the Conservative Prime Minister at the time, asking him to acknowledge the cycle of violence. A study by the RCMP found that between 1980 and 2015, 1049 Canadian Indigenous women had been murdered, 175 had disappeared, and over 100 were still nowhere to be found. On December 8, 2015, Justin Trudeau, the new Prime Minister of Canada, finally announced that a national inquiry would be made into missing and murdered Indigenous women, one step forward in the fight to protect all women. By 2016, an associated petition on Change.org had received over 300,000 signatures to continue to fight for the cause.
NOVEMBER 2014
#WhyIStayed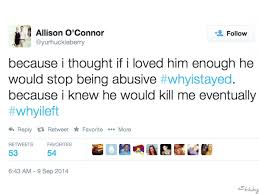 In November 2014, security footage was released of NFL football star Ray Rice assaulting his then-fiancee, Janay Rice. Instead of offering sympathy for Janay, the bulk of the discussion surrounding the event asked why Janay would stay if she was in an abusive relationship — victim-blaming at its finest. Writer and domestic abuse survivor Beverly Gooden created the hashtag #WhyIStayed on Twitter on November 8, 2014, in an attempt to change the tone of the conversation. The hashtag and associated tweets are used to inform people that it's not always easy to leave abusive relationships, and that staying can sometimes be safer than leaving. Five hours after Gooden first put out the hashtag, it began trending nationally, and by the end of the day it had been used more than 46,000 times.
SEPTEMBER 2015
#ShoutYourAbortion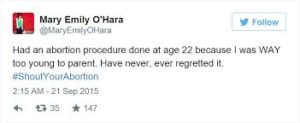 The #ShoutYourAbortion social media campaign was created on September 19, 2015 by feminist activists Lindy West, Amelia Bonow, and Kimberly Morrison. The campaign was created as a response to the United States House of Representatives' plans to defund Planned Parenthood, leaving many American women without crucial, affordable care. The hashtag encourages women to share their abortion experiences, in order to destigmatize the topic and create a sense of community. The hashtag has since been used hundreds of thousands of times on different social media platforms.
SEPTEMBER 2015
#IStandWithAhmed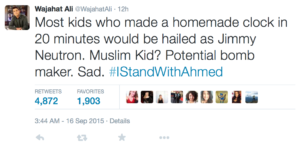 The #IStandWithAhmed hashtag campaign was created after 14-year-old Ahmed Mohamed was arrested at his high school in Irving, Texas after creating a clock that a teacher mistook for a bomb. The incident drew accusations of racism, specifically Islamophobia, as Mohamed was taken away confused in handcuffs for an invention he was proud of. The hashtag was created by a tech blogger named Anil Dash, who tweeted #IStandWithAhmed alongside a photo of Mohamed being escorted out of the school by police, wearing a NASA t-shirt. The hashtag spread rapidly, and many scientists, engineers, and bloggers tweeted their support for Mohamed, along with Barack Obama, Hillary Clinton, and Mark Zuckerberg. If there is a silver lining to the story, it's that Mohamed was offered a scholarship to US Space Camp in Alabama, and he already had the NASA swag.
FEBRUARY 2016
#OscarsSoWhite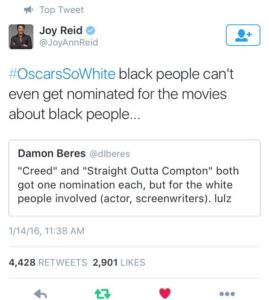 In 2016, all of the Oscars nominees for best lead and supporting actors were white — for the second year in a row. Industry professionals and at-home movie watchers alike were furious about the lack of diversity in the nominations, as many deserving actors of color were noticeably excluded. Thus, the hashtag campaign, #OscarsSoWhite, was created in protest. The hashtag was first used by April Reign, a managing editor at broadwayblack.com. Within a week of the nominations being announced, the hashtag was mentioned over 256,000 times on Twitter. Many celebrities chose to boycott the Oscars that year, such as Will and Jada Pinkett Smith, Spike Lee, and Michael Moore.
APRIL 2016
#NODAPL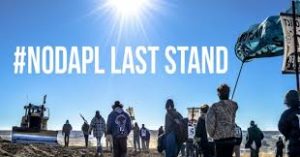 #NODAPL is the hashtag associated with the social media campaign for the Dakota Access Pipeline protests in the Northern US. The hashtag was created by a group of about 30 young people from the Standing Rock Indian Reservation in the Dakotas, who wanted to make known their opposition to the Dakota Access Pipeline, an underground oil pipeline beginning in North Dakota and ending in Illinois. The campaign was intended to draw attention to the fact that the pipeline was to be built on sacred burial grounds, and that it could negatively impact the water quality in the area. Millions of tweets have since used the hashtag #NODAPL, and the protest is commonly referred to by its hashtag because social media played such a strong role in the movement.
OCTOBER 2017
#MeToo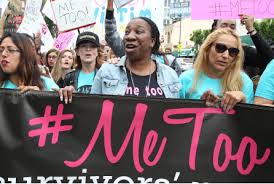 The #MeToo social media movement gained popularity in October 2017, not long after sexual misconduct allegations against Harvey Weinstein were brought to light. The hashtag campaign was created with the intention of allowing other people to share personal stories of sexual harassment and assault, especially in the workplace, in order to display the magnitude of the issue. The hashtag was first created ten years ago by feminist activist Tarana Burke, but was re-popularized by actress and survivor Alyssa Milano after the Harvey Weinstein allegations. It has been used by other high-profile celebrities such as Jennifer Lawrence, Gabrielle Union, Lady Gaga and Gwyneth Paltrow. In December, the #MeToo campaign "Silence Breakers" were named Time Magazine's Person of the Year. The hashtag has been used millions of times, and counting.
FEBRUARY 2018
#NeverAgain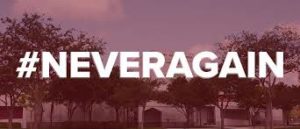 You've been living under a rock without Wi-Fi if you are currently unaware of the major social media protests led by the teenagers who survived the shooting at Marjory Stoneman Douglas High School in Parkland, Florida. The Parkland massacre occurred on February 14, 2018, when 17 people were killed by a shooter with an AR-15 style gun. #NeverAgain was first posted on Facebook by Cameron Kasky, a junior at the high school, one day after the massacre. The students, and associated hashtag campaign, are arguing for tighter gun control laws, and denouncing US lawmakers who receive financial support from the NRA. The students' hope is that no children, teachers, or families will ever have to experience their same trauma.
        These hashtag campaigns and the changes that they have made prove that hashtag activism is more than just "slactivism." From funding breakthroughs in research to potential gun reform, we can't wait to see what these hashtags and their courageous users accomplish next.