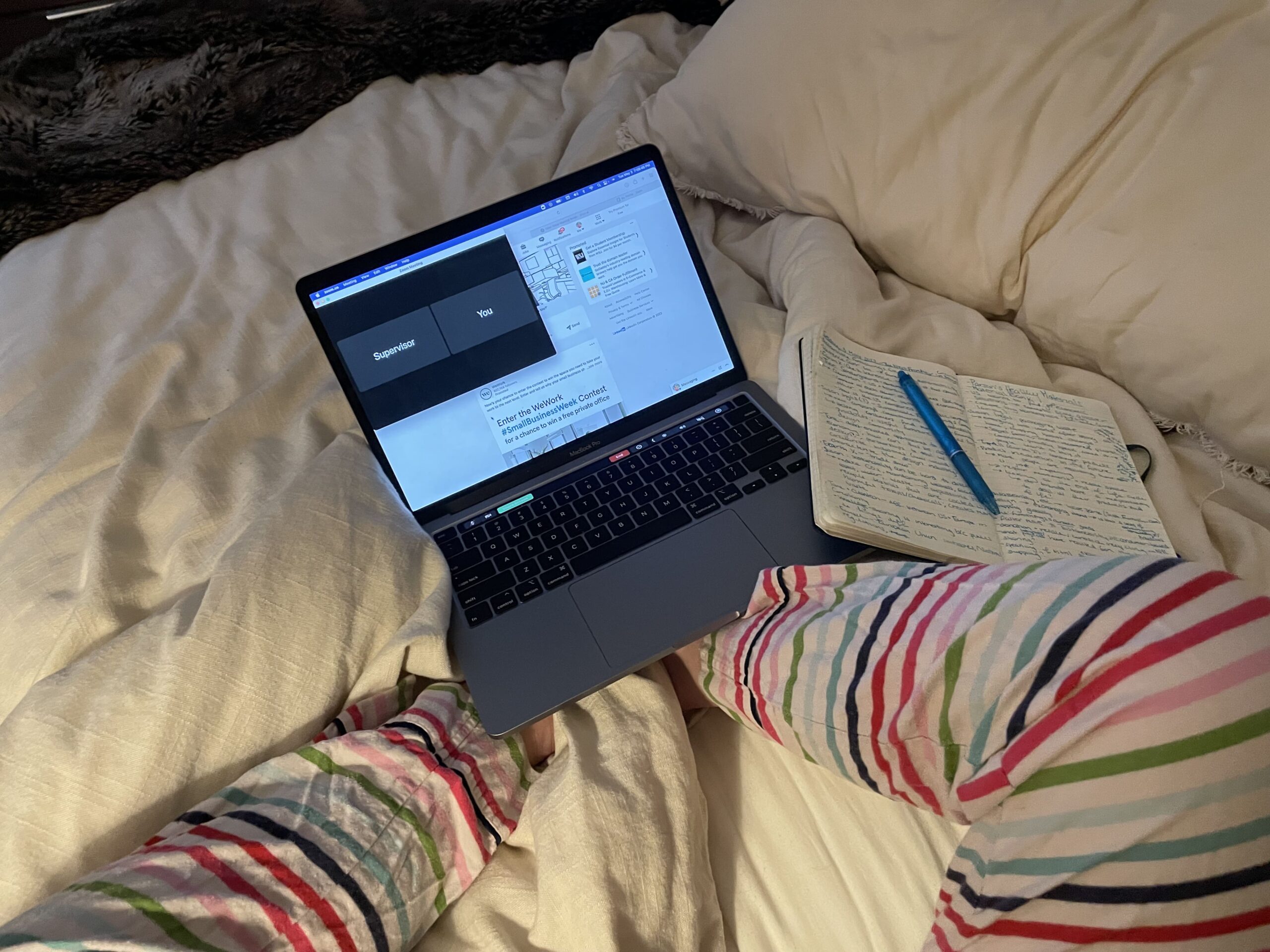 When Workplace Culture Happens Between Your Bed and Your Desk
By Zoey Lyttle
Read More
It's past midnight in Brooklyn and Kwame is still seated at his desk, inches away from a warm bed that's begging him to retire for the night. He can't sleep yet, though. He's grinding out the last couple hours of the work day, hours which have only grown more demanding since the pandemic slammed the investment banking world a few weeks ago.
His room is quiet and empty, but he isn't alone. Leaning beside his computer are Kwame's saving graces: three work friends he made since starting as an associate in July 2019. Kwame's colleagues are reduced to small rectangles on his phone screen, typing at their own desks on the other side of the Facetime call. The four say little to each other, all equally consumed by work that started at 9 a.m. that morning. Nonetheless, they are present and together, and that's what matters. Because of them, Kwame's lonely, uncertain days feel a little less dark.
If you ask me, Kwame is one of the lucky ones. He spent 10 months with his company before COVID disconnected its employees with mandated remote work. An entire generation of new professionals are hindered by these conditions. Some only know their co-worker's names, voices, and faces – that is, if they turn their Zoom cameras on. Those who currently operate on a hybrid schedule might only know a handful of their colleagues, and perhaps have only seen their eyes peeking out from over a mask. How does the young millennial or Gen Z elder, just getting their footing in the professional sphere, solidify workplace camaraderie? How do they collaborate? How do they find mentors to guide them, answer their questions, and help them rise beyond entry level positions?
I worry I won't be one of the lucky ones. I graduated from college in June 2021; I've never known workplace friendships, because I've never had a full-time job. To complicate things more, I immediately started a master's program, postponing the question of where I'll work – at home or in an office – once I am employed. The journalism industry is grounded in conversation, workshopping, bouncing ideas off your co-workers, and soaking up the wisdom of your superiors. Sure, you can write from anywhere. You can develop stories in isolation if you must. Plenty of jobs can be done remotely, from Kwame's industry to mine. However, we can't ignore the value of the office, the sense of belonging and allegiance that forms when you're surrounded by others executing similar tasks. It appears that new employees are at a crucial disadvantage these days, and with the fluctuations of the pandemic, the remedy is uncertain.
Luke Simboli, in my opinion, is not one of the lucky ones. He got his bachelor's when I did – from the same university – but unlike me, he went to work almost immediately. Simboli has worked remotely since he started last September as an Assistant Project Manager for Veteran Affairs. In normal times, that would place him in Washington, D.C., that is if he had to report to the office. For the most part, Simboli doesn't know much about his co-workers, and frankly, he's pretty uninterested in forming relationships with them. He thinks this might be different if they were sharing a physical workplace, though. "If we were in person, obviously, I could go up to someone, I could compliment them. I could ask," he says. "There's more time for small talk."
Simboli believes he is lucky, though. In the last few months, he's traveled around the east coast, spending time in Atlanta and Connecticut before settling in New York. I'll admit that I envy his mobility. But keep in mind that this was possible because, as a new employee, he didn't have much to do beyond initial onboarding requirements. Simboli isn't sure how much he can even learn in a remote world. "How do you teach someone what to do when you're not even there in person?"
With his light to-do list, his work days are barely structured, if at all. Every morning, Simboli meets with his boss at 8 a.m. After that, he might nap. He might have breakfast. This lack of a plan would bother me, but I have no point of comparison – and neither does Simboli. He says he's used to being lazy at this point. He appreciates the freedom to relax in bed, or to put on a soccer game he's keen on watching.
While Simboli and I speak from lack of experience, those who have been in an office can attest to the benefits of a flexible schedule. Kwame, for example, is often on call for over 12 hours per day, but he isn't completing tasks every minute. "There's a little dead time…waiting for someone to get back to you or waiting for feedback on something," Kwame says. "When you're working from home, you can use that time to [nap], play video games, do your laundry."
This past spring I worked two days a week as an editorial intern for a magazine. It was an entirely remote position, though there were several other New York-based interns, one of whom was already a friend and classmate of mine. We decided to form a "cloud office," as we affectionately dubbed it. We drifted between our apartments – Mondays were spent uptown at his, and on Tuesdays he came to me. Unlike Simboli, he and I had plenty to write, edit, email, and discuss. We managed to establish an in-person culture outside of the office environment.
I must disclose, however, that he and I liberally enjoyed the freedoms of a remote workplace. We would cook, clean, take long breaks to do our school work, and chat whenever we wanted. One day we even walked 10 minutes to Bed, Bath & Beyond so that I could replace my Sodastream canister. The work day might've been drearier had we been chained to our desks and confined to a thirty-minute lunch break. Again, how can I compare this to an experience I've never had? Here's what I do know: on the days when we worked separately, I didn't enjoy the day as much. I wasn't as productive alone.
I didn't need a ton of training for this internship. It was a writing job – aside from learning the publication's voice, I was already equipped with the necessary editorial skills. I didn't need to call upon my managing editor very often. But for most young, eager, hopeful, inexperienced employees, it makes all the difference to know that a helpful supervisor is just a few desks away. Such comfort paves the way to confidence; eventually the bright-eyed wave of newcomers will rise to positions of authority, armed with knowledge and ready for the responsibility. Over Zoom, Slack, and email, it's not as easy to form those relationships and receive that support.
"Honestly, it was probably hardest for interns," says Dylan Ardnt, who works for a small music management firm in New York. "They can't sit next to you, and you can't just quickly show them your screen. That was probably the hardest part, figuring out how you continue to give them an experience that's worth their time."
Like Kwame, Ardnt socialized outside of work, seeing friends he'd found since starting the job in June 2019. But in October 2020, when his office officially opened up "for whoever wanted to use it," rebuilding relationships was strained by the distressing implications of the virus. Ardnt remembers the anxiety of knowing that someone could get sick. Today, vaccines offer some relief, but months before those were approved, Ardnt and his co-workers had to stay mindful and keep their distance.
When Ardnt was working remotely, he started to make the most of his downtime. He got in shape, cooking meals during lunch, while using exercise as a break from screen time. "It was an activity that I could do from my apartment – or on the street or in a park." Ardnt is currently on a hybrid schedule; he has to be in the office three times a week, but the other two days can be spent at home. His remote days continue to benefit his workout schedule, seeing as he doesn't have to commute from his office in Manhattan to his gym in Brooklyn. In May 2020, NYU Stern professor Scott Galloway calculated that New Yorkers saved about 40 hours in commute time during the first month and a half of the pandemic. That's over six hours per work week.
If my roommate heard that statistic, she'd say she wasn't lucky at all. She's my age, nearly a year out of undergrad and working full time, in person. My roommate places a lot of value on exercise – it brings her joy, it makes her feel healthy, and it's something she rarely has time to do. With her 35-minute commute, from Chelsea to Williamsburg, she's out the door by 9 a.m. and not home until 7, sometimes 8 p.m.. There are weekends, of course, but Ardnt can attest to the struggle of fitting social activities, household chores, and exercise into those two days.
How can the new employee stay focused and productive when they have ample time to exercise, cook, clean, nap, and watch television? It's unlikely that they'll be incentivized by any major promotions, and it's easier to slack off without anyone looking over their shoulder. This was a problem for Kwame. His work-life boundaries became muddled once he started working where he sleeps and sleeping where he works. Some days, he would walk two paces and slide right into bed, exhausted from the long hours and too lazy to shower or even brush his teeth, he says. His bedroom was no longer a place of refuge, but it wasn't strictly for work either.
Matt Goldman actually found it easier to set boundaries. He was managing customer service for a men's clothing startup before the pandemic hit. Prior to lockdown, Goldman often felt antsy at his office desk. He longed to get up and walk around for a bit, but he didn't want to distract his co-workers. During the pandemic, he was diagnosed with ADHD, which explains that can't-sit-still-ness. At home, he could meet his need for short breaks. He found that switching up his environment – not just staying at one desk for long periods of time– helped his workflow. This, however, stemmed from a luxury few others share. Goldman and his girlfriend moved into a two-bedroom apartment, meaning he could take up new space in several different areas.
Goldman' work benefited when he started switching it up, moving room to room; Simboli, on the other hand, sees value in hopping from interest area to interest area. Working remotely means that he can live anywhere, and he chose New York. In the city, the young VA employee gets to spend time making films, a passion he's had for years. He can work on indie projects without relying on them as his sole source of income. At the end of the day, Simboli fills the corporate camaraderie void with his own side projects. He finds and forges meaningful relationships with others who share a passion for filmmaking.
So where is the needle pointing? Do the social benefits of an office outweigh the freedom of remote work? The world isn't so black and white. Ardnt believes the gray area, a hybrid schedule, is the perfect solution. Perhaps it is, although when you have the option to work online, nothing's forcing you into the office. There's nothing to ensure that you will face the harsh realities of employment and grow from the setbacks. I hope to enter a workspace that respects my mental health, but I also want to be surrounded by co-workers who help me succeed. These people should know me, and know how to encourage me. When the going gets tough, I want to show up. I hope to see real people when I'm at work, people with the experience to shape me as a professional.
Leaders are born out of failures and strengthened by resilience. One day we, the new employees of today will be on top, making major decisions and guiding the next generation. I wonder how pandemic-born employees will handle the pressure. Perhaps our ambitions will be tempered with a more relaxed workplace environment. Maybe our creativity will prosper with the freedom to explore. Regardless, I hope we are seen and heard in the workplace, and that we become more than just names on a company's roster, or talking heads on Zoom. Wherever that recognition happens is where I want to be.