Book-To-Screen Adaptations Are a Pandemic Hit
Barnes and Noble bookstores are expected to look the same.Each one has the same forest green color, a comforting presence, and the same rows, shelves, and stacks of books in fiction, romance, mystery, YA, Sci-Fi/Fantasy etc.While the arrangement of these sections might vary from place to place, the same books will  always be there.  
When COVID-19 hit in the beginning of 2020, libraries and bookstores—independent, used, or corporate—were all put on lockdown. In-person shopping wasn't an option and online retail was taking a giant step into the spotlight. Even though purchasing looked different, reading was at an all time high. But what were people reading? How were they finding recommendations without the help of a bookseller?
To find books, readers turned to trends seen on TV, tapped into current affairs, and relied on influencers and reviewers seen on "bookstagram" (book section on Instagram), "book Twitter" and "booktok" (book section of TikTok).  People were reading the genres they like to read, ultimately finding comfort in the stories that can offer that much needed escape from reality. 
With bookstores being back open, the displays are helpful in giving shoppers an idea of what they may want to pick up next.
"When it comes to picking displays, it depends on what it is for," said Kailey S., a bookseller at a Barnes and Noble in Illinois. "We have specific ones for new books, so new contemporary, new fantasy, etc., and we have the booktok table so anything that's kind of trending there. I like to do displays that feature more diverse authors and more diverse stories, and it's not something that we do super often because once you create a display you want it to stay up for a while and want people to buy off of it."
In the three years Kailey has worked for Barnes and Noble she's noticed that book-to-screen adaptations are always the first to go out of stock.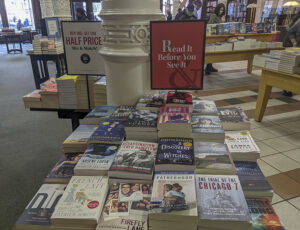 Even independent bookstores like The Strand in New York City, for example, keep up to date with current reads. They have tables on the main floor with new releases in hardcover or paperback and have specific books that have crept back onto the bestseller lists, mainly thanks to television. 
Independent or indie bookstores, as they are known to consumers, aren't controlled by larger corporate chains. They may not be as mainstream as Barnes and Noble, because the book selection is unique to the store, but they are likely to have book-to-screen adaptations readily available.
Book-to-screen adaptations are not a new phenomenon. When people find out that a movie or TV show they enjoyed was a book first, it's likely that they will end reading the book as well.
In December, almost a year after lockdown mandates had been put in place, Netflix released the first season of "Bridgerton," a regency romance drama based on an eight-book series by Julia Quinn. The show was a massive hit, and people wanted more content when the season had ended. Longing for the same characters and fluffy narratives, the television watchers turned to the book series. Since the release of the show, the books, which originally came out in the early 2000's, made a comeback on the NYT bestseller list. 
"I actually first heard about 'Bridgerton after seeing ads for it when I was on Goodreads. I also saw a ton of 'Bookstagrammers' posting about the release of the show alongside their own copies of 'The Duke and I,'" said book blogger Elisa Grimaldi, known to her followers on social media as @the.overflowing.bookshelf.
Grimaldi says she tends to gravitate towards books that have been or are currently being adapted for TV or film. " I think TV can open our minds to new genres we may like. I've seen an increase in people sharing and purchasing a plethora of different historical romance books since the release of 'Bridgerton.'"
Barnes and Noble stores, specifically, started stacking the "Bridgerton" books, similar novels and other displays for book to screen adaptations. Mainstream bookstores are typically the store of choice because they are up to date with these trends, yet used bookstores come in handy for niche finds that a regular bookstore might not have.
Sweet Pickle Books, located on Orchard Street in Manhattan's East Village, obtains their vast collection of books through donations, trades, private buying and acquisitions, and bulk sales from owners or libraries. The inventory of a used bookstore is constantly changing and a lot of the books represent the interests of the surrounding neighborhood. New books come in multiple times a week, so selection is always different. 
While the constantly changing inventory of a used bookstore may make it more difficult to keep up with current trends, readers may be able to find books that explore the hobbies and themes they're exposed to when watching these adaptations.
"For example, 'The Queen's Gambit' was really popular—everyone coming into the store came in looking for chess books, how to play, the rules, and just that topic in general," said Leigh Altshuler, the owner of Sweet Pickle Books.
These shows and book titles offered a type of comfort that many people were missing during a pandemic. It's inevitable that book sales will be influenced by the things happening outside of a bookstore, yet sales were  amplified even more during COVID because people were reading more books. 
"It's the same thing that happened around the time the Hunger Games came out. The YA book market became flooded with more dystopian novels," Grimaldi said. "Fifty Shades of Grey led to people shamelessly embracing romance novels. Showing a piece of art in a different way can definitely influence people to experience its other forms."