Pick your potion: A Supernatural day in the life of an urban herbalist
Rachelle Robinett is an herbalist and the founder of Supernatural, a wellness cafe on Bowery Street in New York offering up medicinal flower infusions, "potions," and plant-based mylks.
Robinett, a Holistic health practitioner, has formal training in complementary and integrative health. She also studied bodybuilding forums, witchcraft sites, and observed local shamans to refine her craft and learn more about the healing power of plants.
In addition to her menu of potions and elixirs, Robinett offers one-on-one health consultations where she gives clients their own personal "prescription" or herbal remedies, as well as diet and lifestyle coaching.
Low energy? Robinett might recommend her Dandelion & Dopamine "mylk," a base of oat milk with added dandelion root and "nature's dopamine bean", mucuna pruriens, for sustainable, balanced energy.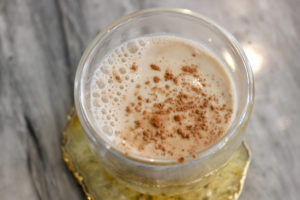 Robinett prefers to source her herbs and supplements as locally as possible and has relationships with many farmers in the area. "Ashwaganda would be a great example," she said. "it grows all over the world and it could be cheaper if I didn't source it locally. I know the woman who grows it in Pennsylvania on a small scale, and  I know the quality is optimal. In terms of my carbon footprint and overall impact on the Earth, I feel better spending a little more."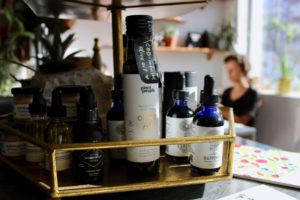 After a consultation with her client, Robinett prepared a potion she called "Fuschia Beauty," a combination of local honey infused with dried flowers and fruit. "The dried flowers are absolutely packed with antioxidants," she said. "And I love that it turns out this bright, hot pink color."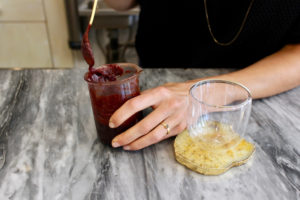 Robinett dissolves the honey mixture with hot water, creating her customized potion.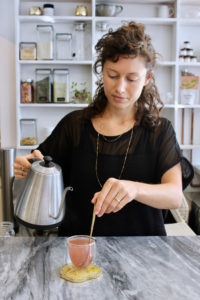 "They say that if an herbalist recommends daily tea and someone takes the time to prepare it, they'll get better," said Robinett. "Not entirely from the tea, but because that action shows that they're willing to make the time to tend to their health."