We online shopped for our favorite CBD products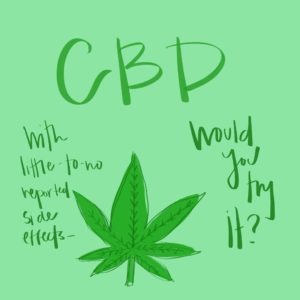 By Greta Chiocchetti
If there were a miraculous, natural supplement that promised to cure you of chronic pain, reduce anxiety and depression, fight insomnia, and even clear acne–with little-to-no reported side effects– would you try it? What if it was available on practically every block– mixed into golden turmeric lattes at health shops, infused into gummy bears, and in e-cigarette cartridges at smoke shops?
Cannabidiol, also known as CBD, has overtaken the cannabis industry the last couple of years. Even though the compound is non-psychoactive (read: it won't get you high), because it originates from cannabis, it has been considered a Schedule 1 substance along with heroin, LSD and others until 2018, when it was removed from the list.
As a result, CBD-containing products have cropped up everywhere on the Internet, from established dispensaries such as Curaleaf and Nuleaf Naturals to less well-known shops hawking products ranging from tinctures to lollipops to CBD-infused pet treats. Unfortunately, it can be difficult for consumers to determine exactly how much CBD is actually in any given product, as many online shops don't share lab results or have been found to inaccurately label the product's strength. Some "CBD" products don't contain any active CBD at all.
So how do you know if what you're buying will actually bring on the good vibes– and isn't just another bottle of grassy-smelling snake oil? Here are some of the best CBD products online:      
MOST EFFECTIVE TINCTURE: Super Good Vibes by Sabaidee, 1,000mg CBD $119.95 for 1 oz tincture// or $4 for a 33.5 mg serving
Though they definitely aren't the cheapest options available online, Sabaidee's Good Vibes tinctures have saved me from my share of sleepless nights, and to me that is priceless.
One dropper-sized serving contains 33.5mg of CBD, and the tincture itself is lightly flavored with peppermint oil, which gives a pleasant cooling and calming sensation. After 2-3 minutes, the relaxing effects can be felt and within 20 minutes, I am tucked into bed, awaiting my blissful drift to sleep.
Their coconut-oil based product is loaded with "quality phytocannabinoids, terpenes, vitamins, omega fatty acids, and trace minerals," according to their website. The organically-grown hemp is sourced from Colorado Springs, Colorado, and all of their products are third-party tested with lab results available online. Most importantly, the dark glass packaging prevents the precious CBD from becoming denatured (as the compound is wont to do when exposed to light). 
If you are a beginner CBD user, the brand offers a lower-strength (and less expensive) option: Good Vibes 250mg+ ($48.95)  is suitable for daily relief and contains about 8mg of CBD per serving.
GOOD TINCTURE, BAD PACKAGING: NuLeaf Naturals, 725 mg CBD, $99 for a .5 oz bottle, or $0.33 for one 2.4 mg CBD serving 
Though this product tastes like 4:20 smells, the tincture was effective in putting me in a relaxed, cozy mood within half an hour of ingestion. I didn't mind the taste enough to stop using it, but I did miss the tingly effects of Sabaidee's peppermint-y Good Vibes.
However, this tincture contains much less CBD per serving due to a much smaller dropper: in this 0.5 FL OZ bottle, approximately 1 drop contains 2.4 mg of CBD, with each bottle containing approx. 300 drops total. Though some experience positive effects from doses as low as 2mg, dosing varies greatly from person to person, and I had to use several (tiny) dropper-fulls in total to effectively combat my insomnia. In the end, when I did drift off to sleep, it was restful and I woke up without any brain fog.   
Their organically-grown hemp is sourced from Colorado, and NuLeaf also offers third-party lab test results on their website.    
BEST EDIBLES (and yummiest CBD delivery method): Hemp Bombs, 60-ct CBD gummies, $99.99   or roughly $1.70 for each 15 mg gummy
With all of the drama surrounding CBD edibles in New York, I was glad to turn to the World Wide Web for this one. Despite the very stoner-esque name and packaging, Hemp Bombs gummies are exactly what they claim to be— a concentrated dose of CBD, and free of that pesky THC.
A 15mg dose of CBD is a pretty powerful dose for a beginner, and these things worked really well at reducing my midterms-related anxiety. It's also much more fun to consume in gummy bear form, and the gummies themselves taste great, coming in a variety of fruit flavors.
The organic hemp used is independently tested by a third party, with lab results available on the Hemp Bombs site. They also offer a 15% discount for seniors and veterans.
BEST VAPE CARTRIDGE (#VapeLife): CBD For the People Blue Dream 1000mg Cartridge with Terpenes, $55
Vaping is a wildly popular way to ingest CBD (as well as many other substances) because it allows the user to absorb molecules directly into their bloodstream rather than through the digestive system, delivering an almost instant effect. Vaping also makes the CBD more bioavailable, meaning that more of it is absorbed compared to other methods.
In the case of CBD For the People's 1000 mg cartridge, that meant that I was instantly put at ease after a few short draws from my vape pen and almost didn't even mind that my roommate left for the weekend without washing her sink-full of dirty dishes.
The cartridge itself is marketed as "uncut" meaning that the CBD concentrate inside is not mixed with propylene glycol or vegetable glycerin, two additives which are commonly used to dilute the oil into a more desirable consistency but are shown to cause cancer and other diseases. What it does include are terpenes, (organic compounds that give plants their smell and flavor) which makes the concentrate inside taste like straight-up weed.
The concentrate itself is very potent, and I experienced the familiar CBD effects. However, it is also important to remember that vaping has been shown to have extensive risks, and the jury is still out as to whether or not the risks outweigh the benefits.
MOST GIMMICKY PRODUCT: Cbd Living Living Water, 10 million nanograms* CBD, $5.99 per bottle/serving
Where do we start with this one?
Apart from the fact that the clear packaging, which exposes all of the product to light, ensures the uselessness of any CBD that may potentially be floating around in the "alkalized" water, the "nanotechnology" that CBD Living claims makes the product so effective hasn't been backed up by any solid science.
The taste of the product, if you can even call it that, was certainly inoffensive because it's literally just water. I didn't expect to be able to detect flavor notes of CBD, but it didn't do much to assure that me I had wisely spent my $6 plus shipping.
Unsurprisingly, an hour after finishing the bottle, I felt no different—except maybe a bit more hydrated. The packaging itself claims to have 10 million nanograms of CBD, but upon further research it appeared that I was not the only one questioning whether or not that was true:
"One [CBD water] brand claims that it contains '4 million nanograms' [of CBD] in its product, but when a consumer sent it into a lab for testing, it was the only product to return with no CBD detected," said Anubhav Pratap Singh, PhD in an interview with Well + Good.
Save your money—pass on the "nanotechnology."