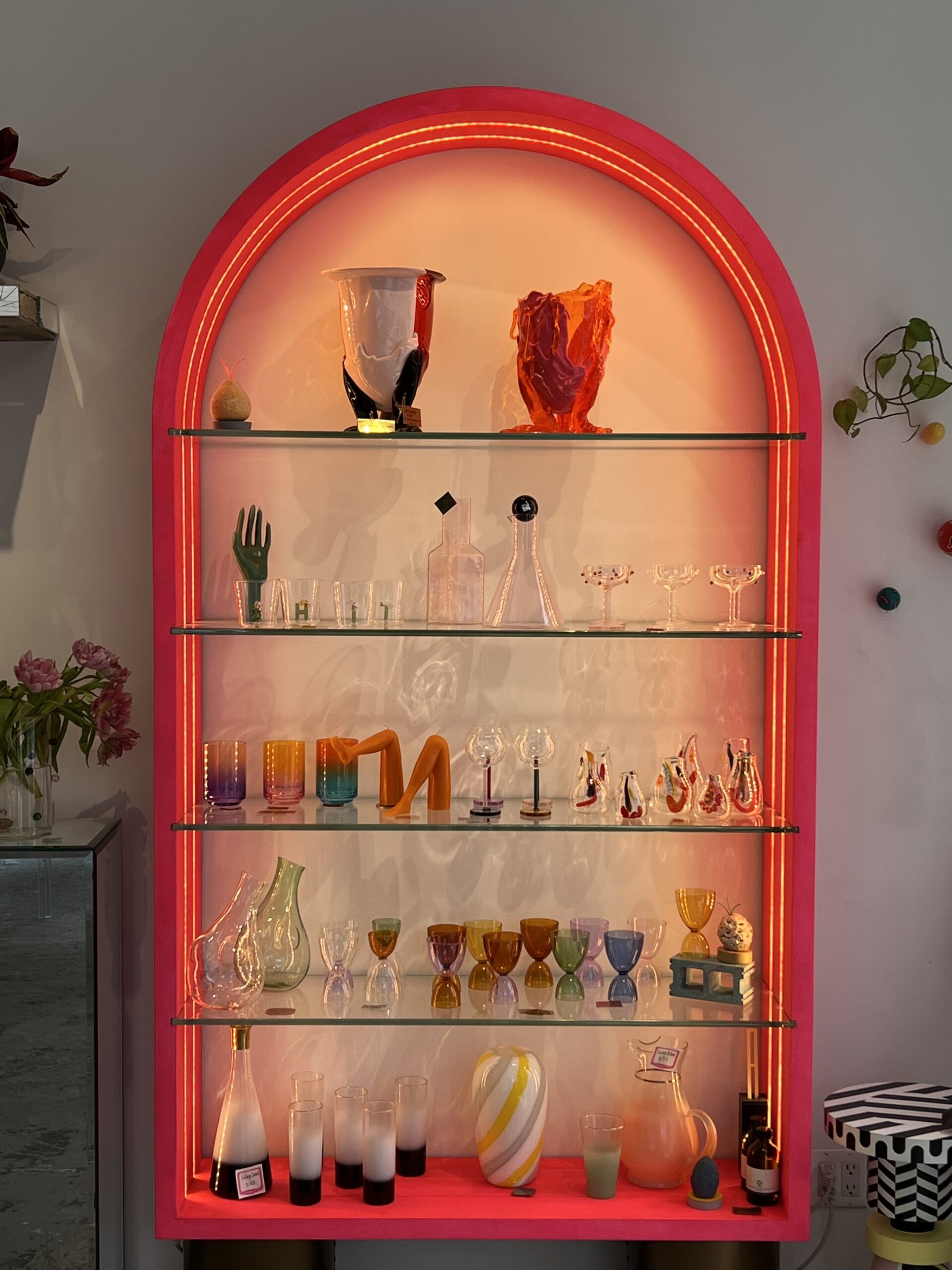 Home Decor Pieces You Need Now
By Brycen Saunders
Read More
From mid-century modern decor like the popular curved floor lamp to trendier styles like single toned-living rooms and Restoration Hardware's infamous cloud sofa, design fads come and go. But with the turn of each new season, many get that undeniable urge to spruce up their surroundings because let's be honest, looking at a 400-square foot desert-hued living room for months on end can become dull. For all New Yorkers, native or not, efficiently decorating smaller spaces is a learned skill. So if you're looking to add levels of life to your home, there are a few standout options in NYC and online that bridge excitement and class.
Located in NYC's Lower East Side lies Coming Soon, a home goods store on the corner of Canal and Orchard St. that's hard to miss. Although the outside of the store is painted cloud white, each item inside dances with every shade of the rainbow. From abstract clocks dipped in vivid shades of flamingo, coral, and tangerine to pastel-colored cocktail glasses, this store is the perfect place to fulfill all your eclectic desires. What's particularly captivating about this store is that even in its whacky character, the place carries items for all areas around the home, including the bedroom, living room, kitchen, and bathroom.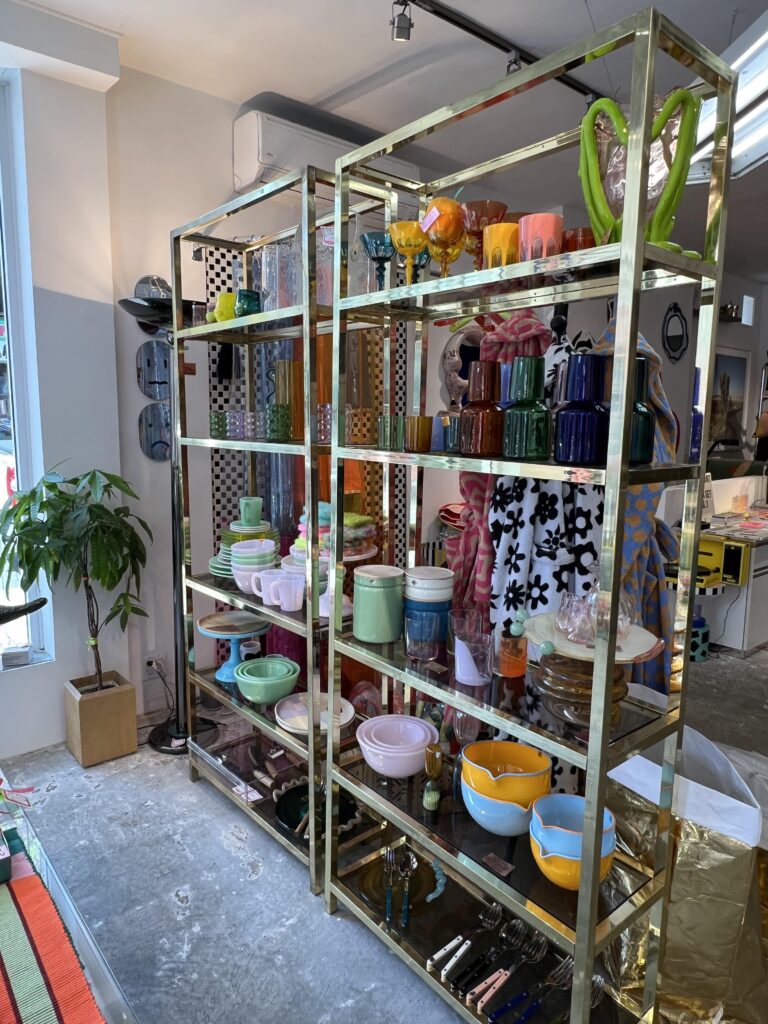 There's no shortage of color, utility, or fun at Coming Soon, especially when you can buy a multi-functional storage container/grinder/lighter from Seth Rogan's cannabis and design company, Houseplant. Albeit all quirky and unique pieces that are sure to start a conversation, be sure to bring your wallet as pieces can range anywhere from under $100 for a Maison Balzac bedside carafe to over $3,000 for a Lunario coffee table by Cini Boeri. 
Next up on the roster is CÔTE À COAST which sits on Bowery St. in NYC. Although the store claim's to be a men's clothing store, you will clearly see a different story. Rubbing up against the front window and spanning the entire space to the back wall, this place is teeming with elevated home decor. Although CÔTE À COAST parallels the minimal trend of taupe, camel, stone gray, and white shades, the brand presents expertly crafted pieces that are made and sourced by brands in the U.S., Africa, Asia, South America, and Europe.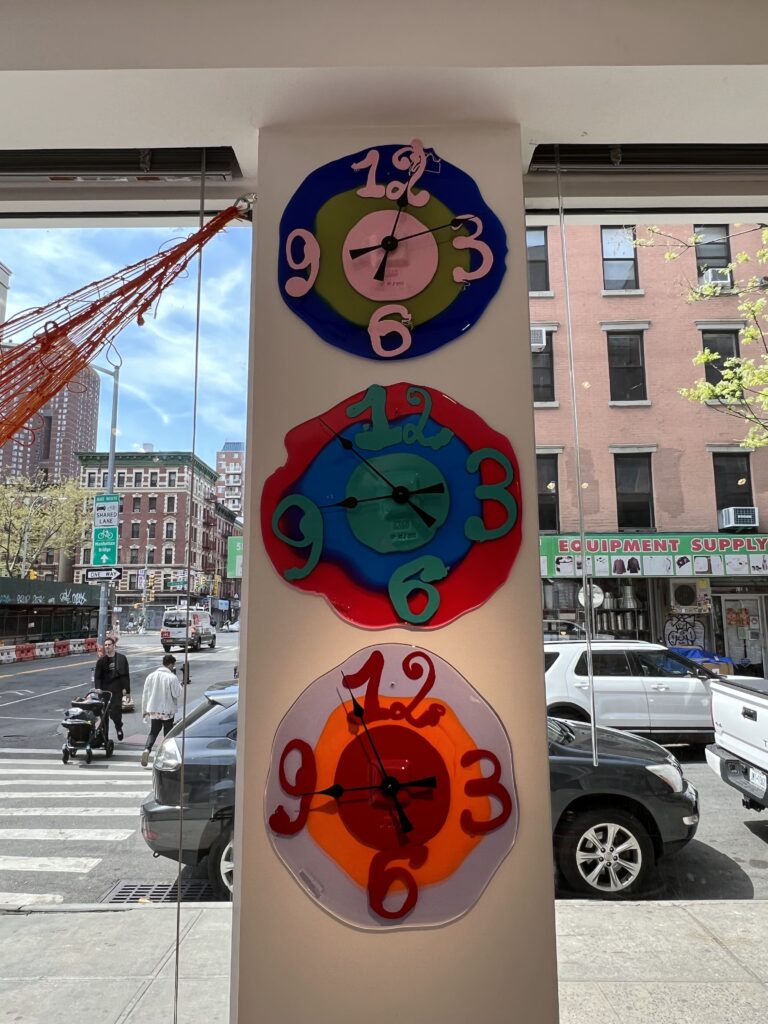 Stone tableware and alabaster vases are just the entryways into a larger catalog of classic home decor. Beyond these pieces, the store features modular ceramic lamps, alpaca pillows, woven baskets, bamboo serving dishes, artisanal heavy-weight tableware, antique Navajo rugs, hand-painted ceramic bells, mugs, and more. So for those that aren't quite ready to give up their desert-style-laden living spaces, CÔTE À COAST presents a great opportunity to add to one's already existing inventory. 
The final offering is not from a New York-based retailer, but yet a solely online entity so everyone can enjoy the same experience. What do you do when you love vintage ads, pop culture, and music? Well, you fuse them of course! Two artists have almost created a subculture of pop art through their reimagined vintage pop culture. For an idea so simple yet captivating, all of us are wondering, why didn't we think of it first?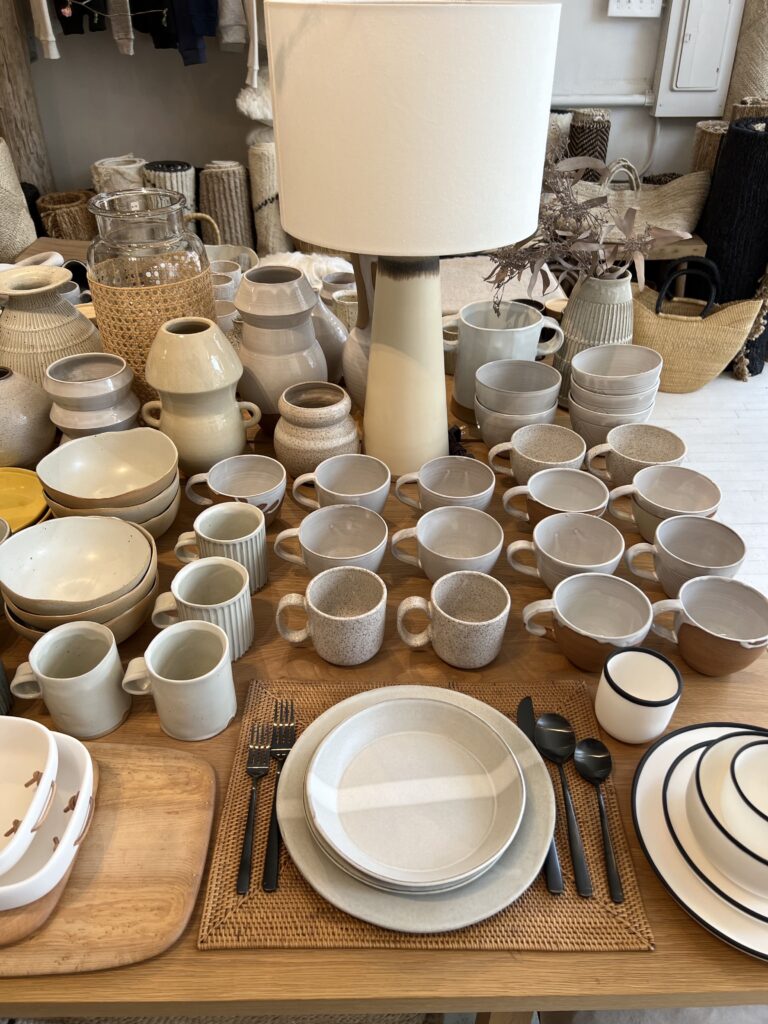 David Redon is a French art director from Marseilles, who lives in Paris. Redon bridged his advertising experience and love for art, music, ads, and everything vintage to create Ads Libitum. His catalog features hundreds of unique artworks, putting an exciting vintage twist on ads for culture-shifting songs and albums. Todd Alcott, a screenwriter and graphic designer, is best known for his co-authorship of the screenplay for DreamWorks Pictures' Antz. In 2015, he began designing cultural mashups under ToddAlcottGraphics, which uses popular music as faux ads, posters, and magazine covers.
Redon solely designs vintage-inspired ad artworks. However, since his work is sold on Society6 and Redbubble, they appear in a variety of forms such as art prints, wall clocks, throw pillows, mugs, tote bags, and more. Redon's art prints start at $24 for an extra small (8"x10") and go up to $37 for a medium (17"x22"). Alcott's works are sold only as art prints in his Etsy shop with prices ranging from $33 (11") to $300 (48") depending on the size. Operating at the intersection of vintage and contemporary, these two artists have created witty and sensational pieces that need to be in homes everywhere.
Almost everyone is familiar with one of Snoop Dogg's most famous hits, "Gin & Juice," which was released in 1993. The artwork recasts the artist's iconic song as a vintage gin advertisement with adoring women surrounding Snoop Dogg. The accompanying text is the song lyrics, and front and center on the bottle is a picture of Dr. Dre, the song's producer. So here, he's cast as the distiller of Snoop Doggy Dogg Gin.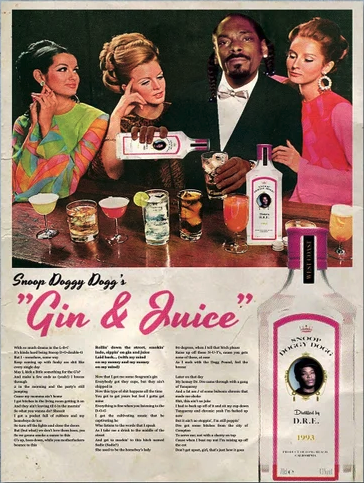 Receiving a 9.5 out of 10 on Pitchfork and met with universal acclaim, Channel Orange (Frank Ocean's debut studio album) is undoubtedly one of the best works of music from the 2010s. Bring up this album to anyone aged 17-30 and they'll talk you up and down the street about how the album was a cultural reset (I am one of those people). What better way to reimagine this cultural phenomenon than as a fragrance? A stereotypically beautiful woman with long brunette hair overlooking the water sets the stage for an encapsulating new fragrance by Frank Ocean.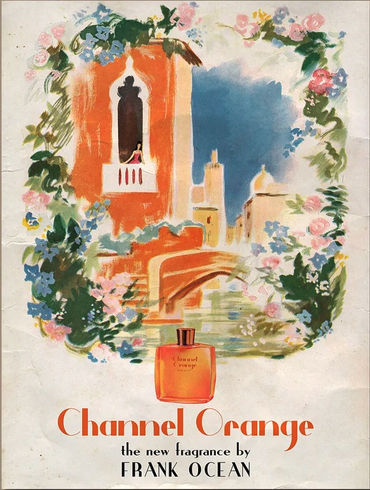 Todd Alcott Graphics:
"Space Oddity" was David Bowie's first single to chart in the UK. Inspired by Stanley Kubrick's film 2001: A Space Odyssey, it is only right that Alcott positions Bowie's classic 1969 song as a 1960s science-fiction comic book. Other David Bowie album and song references are placed throughout the work as well, including The Man Who Sold the World, and "Aladdin Sane." The comic artwork also features Bowie's first wife, Angie Bowie, as his fellow space cadet.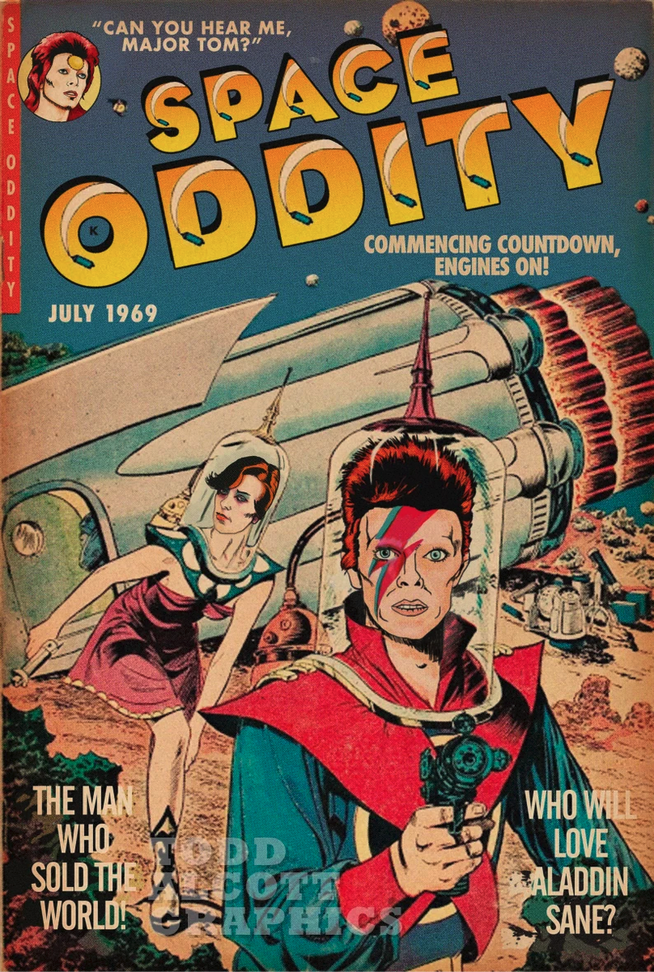 We all need a love that's gonna last. The tune is infectious and even if you don't know Prince's discography, you've heard this one for sure. Released in 1932 on his 1999 album, "Little Red Corvette" was Prince's first top 10 songs in the United States. Since 1953, Chevrolet's Corvette has been a symbol of American culture and craftsmanship. Capitalizing on the fusion of Prince's legendary song and an American staple, Alcott reimagines the famed song as a Corvette owner's manual from the mid-1960s.