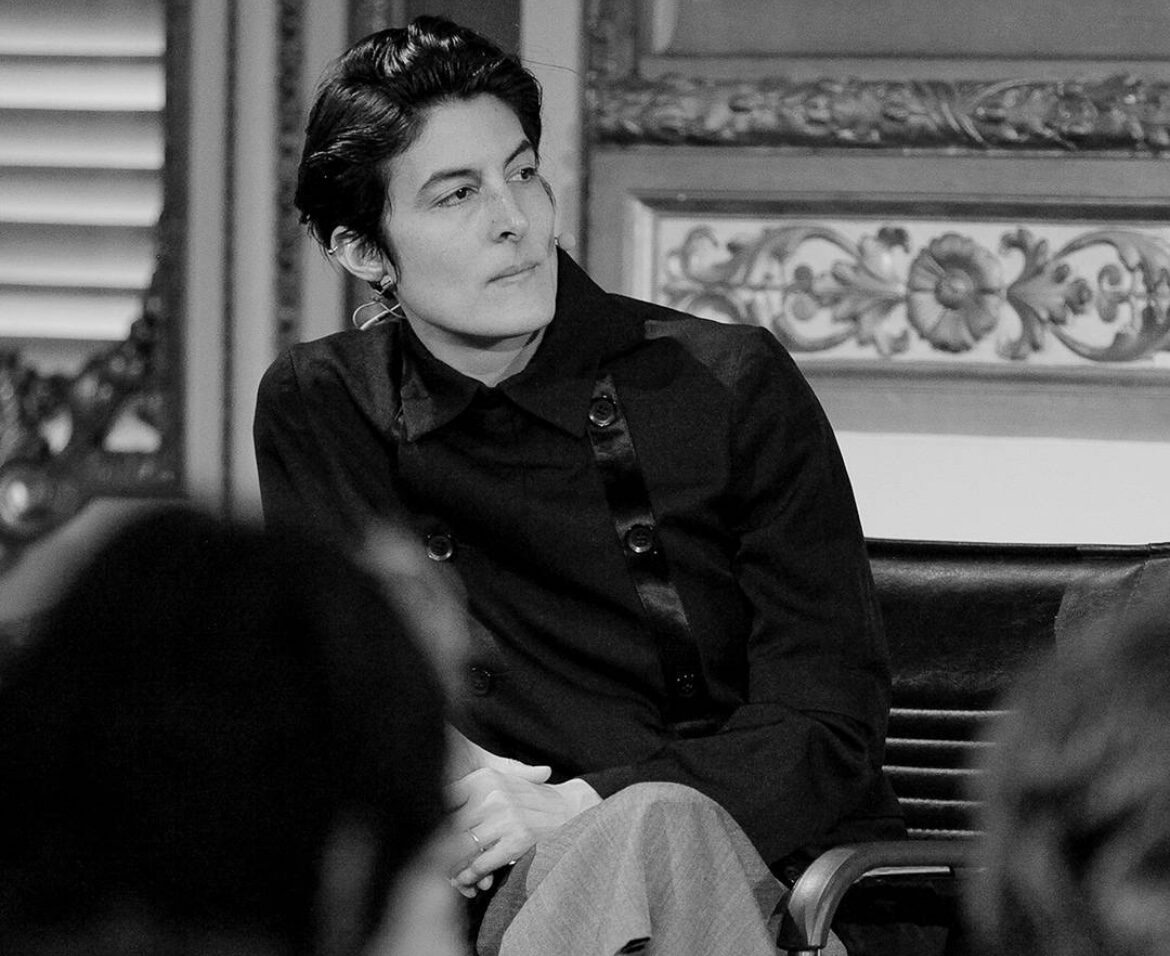 In Conversation with Anja Aronowsky Cronberg, The Editor-in-Chief Who Makes Sense of Fashion
By Anouk Sarfati
Read More
In 2009, low-rise jeans, velvet tracksuits, and oversized hoop earrings became popular – or at least, that's what 'Vogue' and 'Elle' told their readers to wear. One young reader from Sweden, named Anja Aronowsky Cronberg, sometimes found it difficult to relate. Slowly, she was thinking of ways to change the world – which for her meant revolutionizing fashion. 
After all, no one was talking about what it is like to get dressed when lacking inspiration. Or the unparalleled feeling to have nailed an outfit. Fashion was always associated with the same concepts: trends, celebrities, fashion shoots, products, brands, beauty – as if garments and superficiality had to be linked. Couldn't clothes mean something else? She felt that editors-in-chief were too busy delivering monthly issues to even take the time to stop, sit down, reflect, and say, "let's talk about something we haven't talked about, let's start a new conversation." 
Anja Aronowsky Cronberg was desperate to start this conversation. At that time, she was a fashion student at Central Saint Martins, in London, and her interest later grew in the sociology of garments as she started to work for Acne Paper. "I was really hungry when I started working – I wanted to become someone.'' Yet, life ran its course, her priorities changed, and success became less important than her desire to challenge the status quo. She noticed a gap in fashion magazines – little were the publications that truly reflected on fashion. And so, in 2009, she created 'Vestoj' (pronounced Vestoy), which defines itself as "the platform for critical thinking on fashion" – Anja invented the magazine that she had always dreamed of reading.
Available both in print and online, 'Vestoj' is at the forefront of a new wave of publications that put reflection at the centre of their writing and carry a watchful eye on the fashion industry. While most fashion magazines are based on images, 'Vestoj' focuses on words and challenges how fashion is communicated to the world. It does so by intellectualizing fashion, articulating emotions, and exploring ideas through well-crafted storytelling. Several publications of this type, which essentially are academic journals that manage to also be interesting aesthetically, exist. 'Purple', 'Fashion Projects', 'Address' (just to name a few!) – all, like 'Vestoj', connect with readers and create true engagement. "I wanted an alternative – a smart magazine that looked beautiful and could be a resource for anyone looking to learn about fashion," Anja explained. But what can we expect from these magazines? Can they change the way clothes are conveyed to the world? Transform the superficial vision that people associate fashion with? Are these publications capable of finally showing the world the superpower of clothes?  
To try and do so, 'Vestoj' uses several techniques. First, it doesn't revolve around the seasonal fashion calendar, which means that it isn't tied to what is happening in the fashion industry – the magazine can tackle any topic, at any time. Another way 'Vestoj' ensures to remain free of thought is by not displaying any sort of advertising. No products, no brands – the publication is solely composed of articles. Its structure is also different from any other type of publication. In every issue, 'Vestoj' presents a different theme that links fashion to a hell lot of other topics. The magazine examines clothes through the lens of universal themes such as shame, magic, nostalgia, power, masculinity, doubt, memories, failure…"Being niche means having the ability to build loyalty, which surely is at least one key to survival," discloses Anja.
But the key to its survival surely is the essence of 'Vestoj': to put theory at the centre of the magazine. And just like researches theorize diseases, Anja believes that one can theorize about anything. "We all have a relationship to clothes, we all engage and feel a particular way with what we put on, so I never find it a challenge to bring theory into fashion." What 'Vestoj' is really doing, is trying to challenge what fashion magazines don't. When fashion publications constantly give a voice to the same people and visibility to much talked-about topics, Anja claims that "theory doesn't have to be scary!" In her eyes, theory stands for research, writing, interviews, storytelling, and images. Using theory allows the magazine to create a "premium" journalism that also requires a great knowledge of the fashion industry and its history. Using philosophy, anthropology, and current culture, theory makes way for high-quality articles that draw in readers with style, and wit, and convey powerful messages.  
One of the most powerful messages that 'Vestoj' expresses is that fashion essentially is a reflection of our society. The magazine uses how we wear clothes to study the culture we live in. "Fashion is just a system, right?" Asks Anja rhetorically. Fashion is like any system that humans invent. As a culture, we have an ambivalent relationship with appearance and beauty – we're drawn to them, but still feel doubtful. And instead of confronting that ambivalence in ourselves, we assume that the problem lies with fashion. But Anja explained that "being interested in fashion is just being interested in humans." And there's nothing wrong, or trivial, about that.
Paul Smith once said, "It's clothes I love, not fashion." This distinction is sadely rarely made. Too often, clothes end up being brought down to trends, rather than lifted up to what they really are about: fabrics, shapes, colors. "The problem of fashion not being taken seriously isn't because there's something inherently flawed with it, it has to do with how it is culturally interpreted."  So little by little, Anja plants seeds and reframes fashion in the minds of her audience – hoping to allow readers to discover what fashion (or clothes) means to them.