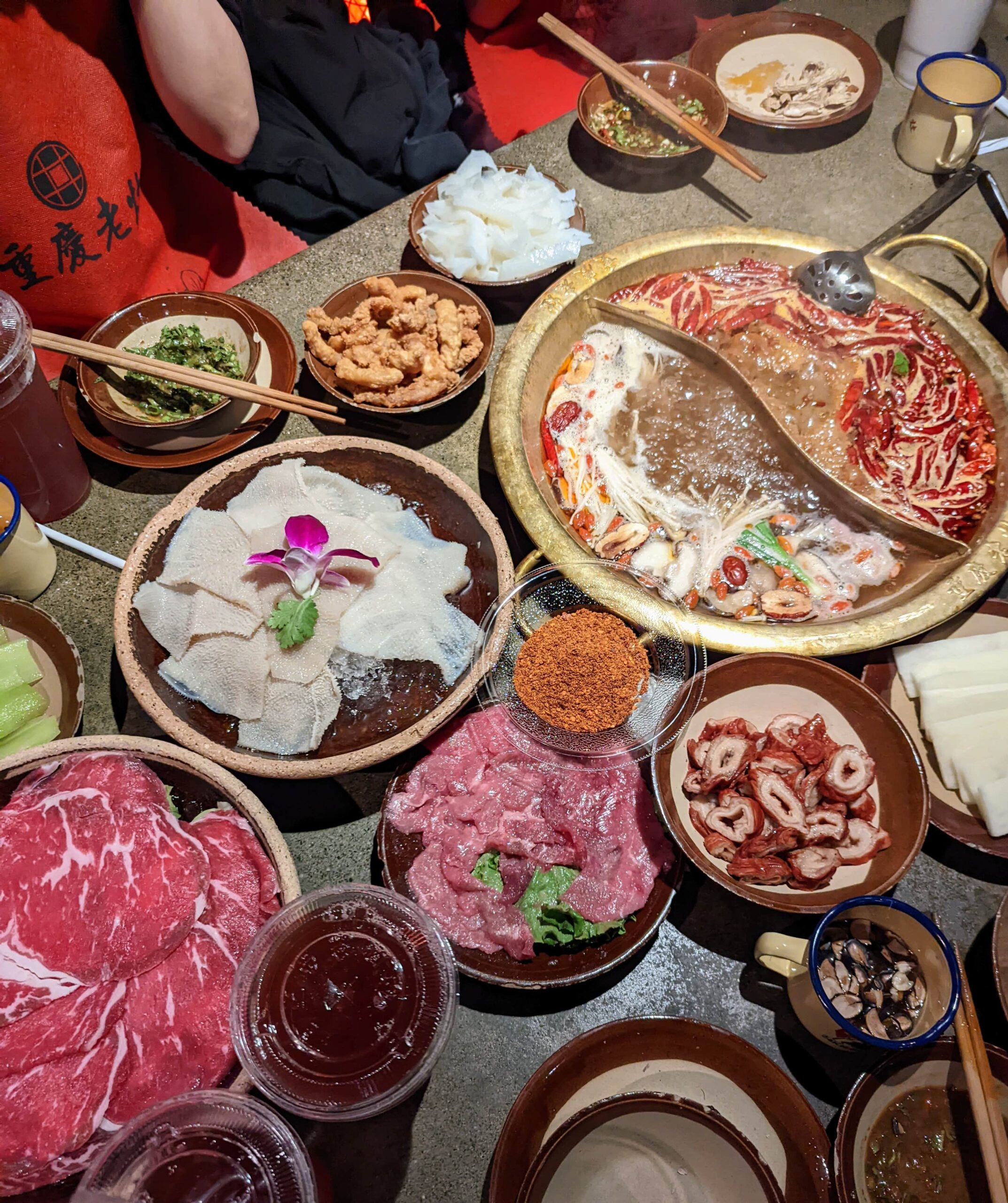 New Restaurants in Flushing Attract a Younger Generation of Customers
By Alex Li
Read More
Standing in the rain, waiting for her table, Riso Wu said to her friends: "I sure hope this is worth the wait." Four hours later, Wu is directed to her table at Chong Qing Lao Zao, a popular Sichuan hotpot restaurant in Flushing, Queens. One can smell the spicy broth blocks away from the restaurant. The two-story establishment is filled with lanterns, marble tables, wooden benches, stone bowls and bronze pots.
The restaurant has become one of the most popular Chinese restaurants in New York since it opened in 2018, but it's only one of the newly opened Chinese restaurants in Flushing that have transformed the community. The predominantly Asian neighborhood has been quickly evolving from a working-class Chinatown to a dining hotspot. Many first generation immigrants  started to move into the neighborhood in the 1970s and established a satellite version of Manhattan's Chinatown. It soon became larger and more diverse than its Manhattan counterpart. Flushing was named by the New York Post as New York's "most dynamic outer-borough neighborhood." As the neighborhood became home for a diverse group of Chinese Americans, it became famous for restaurants offering Chinese regional cuisine. It has also started to attract a younger generation of Chinese Americans. 
Wu, 24, a graduate student at Pratt Institute, heard about Chong Qing Lao Zao on Xiaohongshu, a popular Chinese social media platform that combines features from Instagram, YouTube and Twitter. "Almost everyone I follow has been posting about this place. It looks authentic," Wu said. She has tried to get a table at the restaurant every time she visited Flushing since she moved to New York last year. "We always just wait for a few hours and end up eating at a different restaurant, it just takes so long," Wu added.
Unlike many popular restaurants in New York, Chong Qing Lao Zao does not accept online reservations. Guests are given a number at reception and have to wait until the number is called. "We don't do online reservations because if we do, those who walk in simply wouldn't get in," said Victor Pan, a waiter at the restaurant.
"We drove for six hours just to eat here," said Alan Xue, 25, a software engineer from Boston. Xue and his girlfriend are originally from Sichuan and have been looking for authentic Sichuan hotpot for years. "My friend who lives around here got us a number at 2pm and we started eating around 8," he added. "I think Chong Qing Lao Zao is better than some hotpot places in Sichuan. But the broth is not spicy enough for me. I guess they are trying to appeal to more people."
There is often a line in front of Gan Hoo Barbeque, an Asian barbeque restaurant that is around the corner from Chong Qing Lao Zao. The restaurant offers a selection of meats ranging from Wagyu beef to pork intestines. "We like it here because it uses charcoal to grill the meat, and it just tastes better," said Mia Zhang, a freelance illustrator.
"We have a pretty diverse customer base; a lot of Chinese customers bring their American friends and they all seem to enjoy it. But the majority of our customers are younger Chinese students or young professionals," said Owen Wang, a waiter at Gan Hoo Barbeque.   
Many of the restaurants in Flushing thrived during the pandemic, relying on food delivery services. Apps like Chowbus and Weee cater towards the Chinese community and offer exclusive   deliveries from Chinese restaurants in New York City, many of them are based in Flushing. While restaurants on UberEATS and Doordash have a range limit on deliveries, apps like Chowbus will deliver food from Flushing as far as Jersey City. Some restaurants even offer deliveries to parts of Connecticut. The majority of the customer base for these apps are also younger members of the Chinese community.
"There has been a lot of construction here in recent years, they are just building restaurants like crazy, and a lot of younger people are coming here. That's good for me because I get a lot more customers," said sneaker store owner Mei Mei. Thriving restaurants in Flushing represent the diversity of the Chinese community and the diversity of Chinese cuisine.