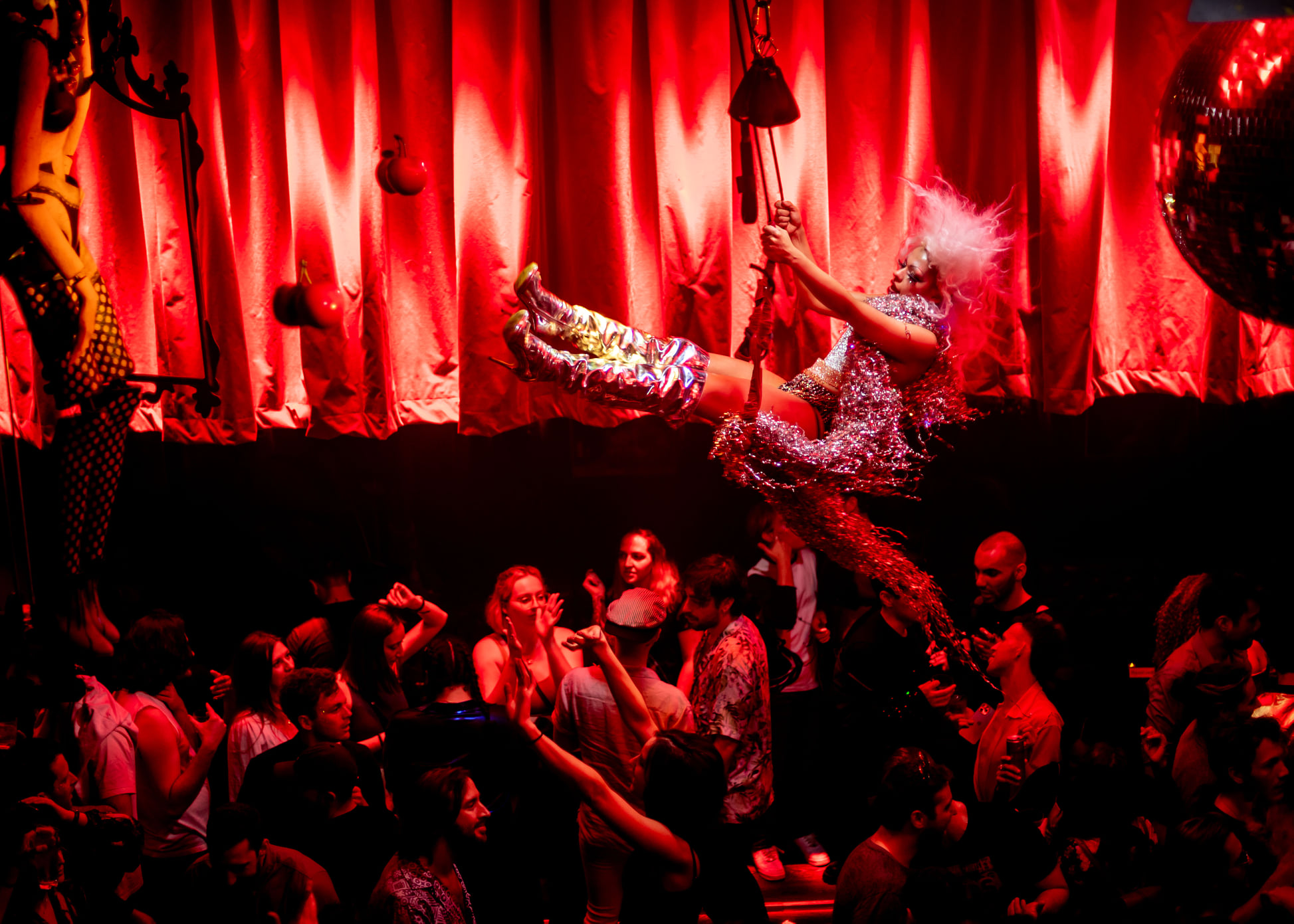 Partying in New York is Not for the Faint of Heart
By Paige Harriss
Read More
"I should've done drugs," I thought, as I turned off a grimy Lower East Side sidewalk to traipse under leafy arches behind a drapery-clad woman resembling part Greek goddess, part desert nomad. "I dressed like I was at Burning Man!" she told the bemused man beside her. 
House of X, the Manhattan club spin-off of Bushwick's famous House of Yes, opened its doors in November 2021 to a crowd of Manhattan-bound ravers who treat commuting into Brooklyn like it's a trip to Guam. House of X, according to their website, is "an underground playground for all who love to feel alive." It invites its guests to tap into their "raw radiance" and (somewhat paradoxically) "indulge with intention."
A drag queen greeted us at the entrance, replete in a cotton candy colored up-do, enviably blended smokey-eye makeup and a bedazzled corset. "Can I get a f*ck yeah for consent?" our self-proclaimed consent guide exclaimed. "Consent is sexy," we were told, meaning that we were not to grope or be groped without verbal permission that night.  
And with that, we were off — clambering down a dark stairwell to the basement of the PUBLIC hotel. Inside, the club resembled something between a childhood playroom and a Broadway theater. Wine colored drapes cascaded down the walls of the dance floor. Bright red strobe lights cast an illusory glow on the empty floor. A spiral staircase led to a balcony where strippers hung suspended over the crowd, harnessed to the balcony's railing. A large bar wrapped around the back of the floor, marketing trippy cocktails like "Passion Potion." 
A gaggle of brave ravers ventured onto the dance floor. A guy in a red t-shirt thrust up aggressive hand movements as another lanky man seemed to perpetually raise his arms in a heart shape, executing an impressive number of body rolls. Two girls in tight black spandex, fishnets and body glitter harnessed energizer-bunny level zeal as they hopped up and down to the oppressive beat.
The large group that infiltrated House of X that night was an eclectic bunch — finance bros mingling in white collared shirts, older women busting out disco-era dance moves and young gay men strutting the floor as if performing at their own Las Vegas residency. 
A middle-aged woman in a long, prairie-style floral dress eyed me as I carefully nodded my head to the beat and slurped my vodka cran. Grinning mischievously, she beckoned me onstage to join her as she performed a terrifyingly-close replica of the contemporary dance routines my mother coerced me into attempting in middle school. "Nooo!" I laughed, pointing toward a steel cage where a frat god was enthusiastically fist pumping, trying to throw her off the scent. 
Partly to avoid an involuntary on-stage debut, I struck up a conversation with a guy named Daniel in a halfway-buttoned, colorful striped shirt. Clutching a tambourine, he was dancing erratically and staring at me with wide, blank eyes and a smile so frozen it appeared glued on. 
"Sorry, I gave him a lot of acid," his friend Maddie said apologetically. "Do you like acid?" I asked, not really sure what to say to him. "Oh yeah!" he grinned, shaking his tambourine in my face. 
"Where did you get the tambourine?" 
His grin somehow enlarged. "I brought it from home!" he yelled.
By midnight, my patience was wearing thin. I was too sober for this. "Have you met my friend?" a short man with dark hair asked me, gesturing over to a taller European in a white dress shirt. "No," I said, rolling my eyes. 
"Guess what," the European shouted in my ear over the pulsating electronic bass. "I invented a dating app!" The app rates one's attractiveness based on their voice and outperformed Tinder in Croatia (supposedly.) I told him I'd consider downloading it — as we all know, the voice is the window to the soul. 
On-stage, latex leather boots wrapped like tentacles around a gleaming silver pole. The stripper's long dark hair whipped from side to side as he hung upside down, the sparkles on his translucent top catching light as he spun. A man in devil horns and a leather skirt held up a sign nearby. "Please tip the whore," it said politely, in bold capital letters. He flipped the board. "NOW." 
The performance ended with a flourish. The stripper tossed a wink at his spectators from the floor, legs spread nearly as wide as his winged eyeliner. A wad of cash was wedged proudly between his teeth. 
As I dragged myself out of House of X that night, a man whispered conspiratorially in my ear. "The last door on your left leads to a dungeon. Go find it then come meet me back at the bar," he said. I never found the dungeon — or the guy — but some stones are better left unturned. I'd had enough of New York nightlife for a decade. 
___________________________________________________________________________________
Cover image courtesy of @houseofxnyc on Facebook