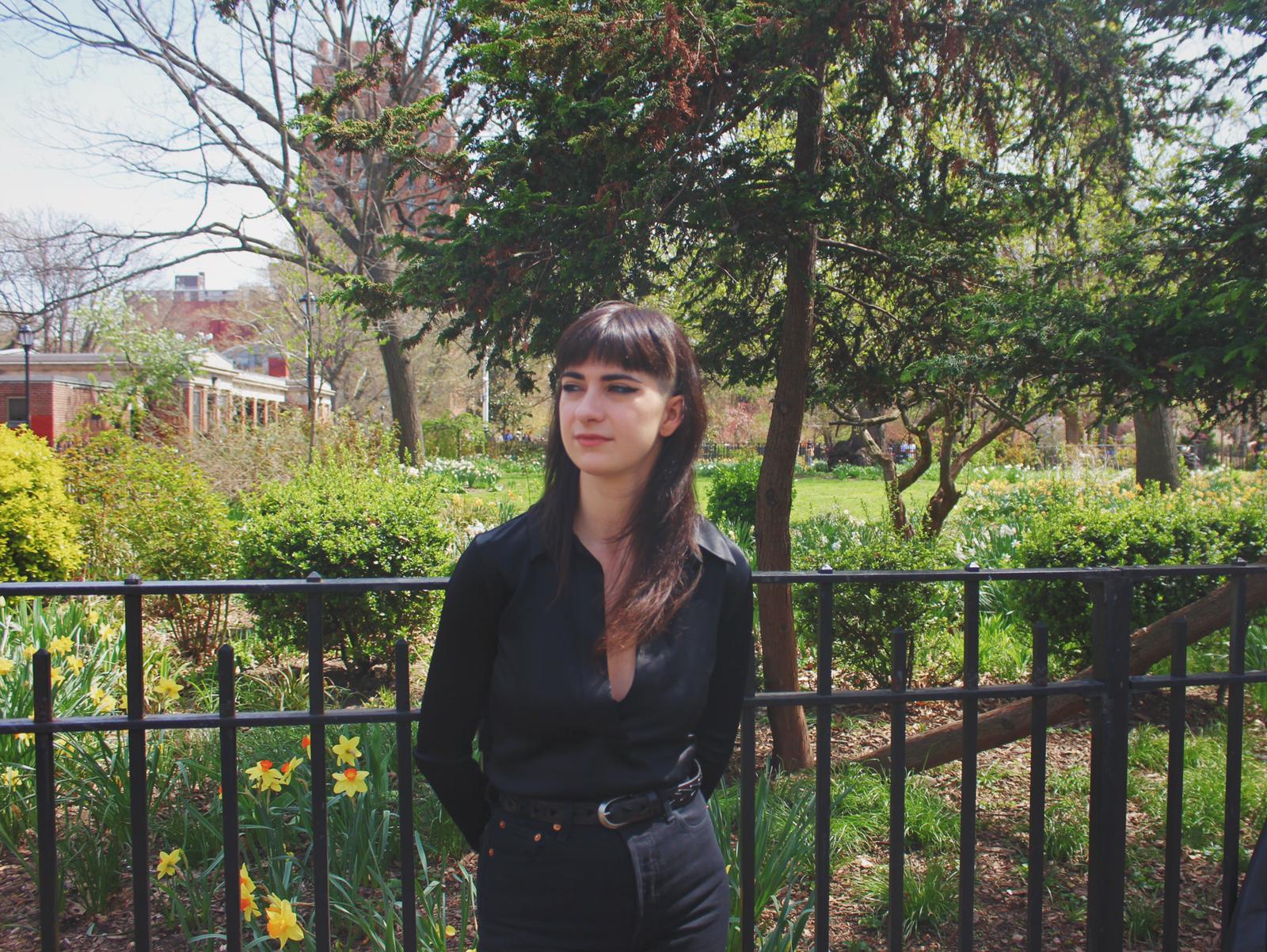 Q&A with Camille Lindsley, the 29-year-old certified sommelier of upcoming "queer first" restaurant HAGS
By Elizabeth Wright
Read More
HAGS is a small upcoming restaurant in the East Village that is queering fine dining by establishing a place for queer joy and celebration through playful food, beverages, and hosting "Pay What You Can" Sundays for those who otherwise would not be able to afford their menu.
Growing up, Camille Lindsley, 29, developed a passionate political view on the accessibility of nutritious food while living in Atlanta, Georgia. She volunteered with the non-hierarchical organization Food Not Bombs where she would gather with other individuals and prepare food to take to a park in downtown Atlanta to distribute for free. This work continued when she moved to Greensboro, North Carolina to attend college at Guilford College. After receiving her sommelier certification in early 2019, she began working at the Decatur House in Kimball, Georgia where she met her significant other and future business partner, Telly Justice. The couple decided to move back to New York City due to what they believed as the city's tendency to nurture niche concepts.
Slated to open in New York City's East Village in June, HAGS is an upcoming restaurant with the goal of creating a queer friendly fine dining venue. As residents of the Lower East Side, Lindsley and Justice chose the East Village because they felt a strong sense of responsibility in working and living within the same community.
In an interview with Lindsley edited for length and clarity, she discusses what future patrons should expect when dining at HAGS.
How did you and Justice come up with the name HAGS?
We got to HAGS because we were trying to think about terms for feminine things that are playful and have a double entendre. I like the edge of HAGS being a "yearbookie" sentiment that I think some people of a certain age bracket will get. It's also a reference to the idea of being old, old hags, these old witchy women who oftentimes practice magic in kitchen spaces who were maligned and punished by society. I think it speaks to both of our feminist sensibilities. We found that people either responded to the name either very positively or negatively, and I feel like that sort of polarizing effect signals to me that it's a good idea, for better or worse.
HAGS is supposed to be queer fine dining. What does that mean?
Telly and I are both queer women. And I think that just being a queer woman business owner makes a queer business. But I think that for both of us, the idea of queerness is not only just an identity, but is first and foremost, a practice. The idea and practice of queering things and viewing things through a queer lens is the way in which we sort of see HAGS as being queer space. So, for example, Telly and I have been thinking a lot about the bathroom in the space of the restaurant. And for years, this battle of gendered bathrooms and anti-trans bathrooms being sort of at the forefront of some anti-trans legislation. There's a lot of potency for making a space a queer friendly space.
In both of our experiences working in fine dining, these spaces are hyper-gendered, and oftentimes can feel very classist. They are also oftentimes not accessible for people who are in wheelchairs or differently abled in any other way. So, we have been trying to envision a space where it feels truly hospitable and to welcome more people who might not feel welcome in spaces that are traditional fine dining spaces. There's a lot of folks to want to feel like there's a space where they can go and celebrate a special occasion in a space where they can feel like they can be openly gender non-conforming, you know, they can be any way that they are that might not be embraced with the same spirit of hospitality at another fine dining restaurant.
How will the decor mesh fine dining and the queer experience? Will it have the traditional fine dining white tablecloth and low lighting, or are you going to redefine it?
We're definitely redefining it. We're working with an extraordinarily talented woman, Sarah Carpenter, who is sort of the brains behind Carpenter and Mason. She is a registered architect, interior designer, self certifies all of her work, and she's been an absolute dream to work with because she's been able to understand the vision that we've had for the space. It's a very cozy, very intimate, twenty seat restaurant. She had the design directives of creating a space with no harsh edges or right angles and having a space feel very, in her words, "whim-like." There are endless ways in which you can think about a space being more accessible and more inclusive, and Sarah has been incredibly receptive to our ideas and patient with us as we've had a million ideas of like, "Oh, maybe we should have a baby changing table in the bathroom. Maybe we need to have bar stools without arms to be more size inclusive."
We definitely want to have it feel more modern. But I think that in terms of some design aesthetics, something that we really feel like makes anyone feel pampered and like they're living the height of luxury is to go into the bathroom and be able to have sanitary products, condoms, or a sharps container– anything that is helpful in harm reduction. There's a lot of fun that we're having in terms of thinking about the design and spatial elements that make us feel truly pampered, lavished, and cared for.
A big thing that we've been trying to do in this gut renovation of the space is making it ADA. And there are other restaurants, I'm thinking of Yannick Benjamin, the sommelier of Contento in East Harlem, who is a awesome advocate for disability rights. Contento is radically designed for people in wheelchairs, both guests and workers alike. So, for example, the bar has two different levels: one that's a traditional bar counter and one that's a bit lower for people who can't necessarily sit in an elevated barstool.
What will the menu look like? Is it going to be a set prix-fixe menu, or is it going to be a changing à la carte menu?
We will have a set prix-fixe menu because it plays to both Telly and my strengths in terms of our experience in this industry. But oftentimes, restaurants with à la carte menus tend to have a lot more waste, simply because you might prepare fried okra, a shrimp ceviche, and a succotash dish as three of your appetizers. Maybe everyone that night wants fried okra, and the other two dishes don't get ordered. There's a lot of chaos and uncontrollableness that comes with à la carte, so we decided that we wanted to do a tasting menu because it helps reduce waste and sort of alleviates the burden of choice when you sit down, and you don't have to go through the menu and make these decisions.
Will any of the dishes have a queer flair to them?
Oh yeah, for sure. You'll have to come and see. I like to leave a little bit of mystery. But yes, there will definitely be some queer flair.
How did you and Justice decide that you wanted to implement a pay-what-you-wish Sunday? How will that compare to the normal price range during the week?
During the week, because it is a fine dining restaurant with a tasting menu, it will be a bit expensive. We don't have exact prices on the menu right now; we're still putting finer points on that, but it'll be in sort of like in the mid-$100 range for the menu. We're not going to accept tips because of the unfortunate racist and problematic histories around the emergence of tipping in the US. But also, it's included in the price of the meal.
But we have always grappled with the feeling as restaurant owners that we have a fundamental decision when building our business model: either we have food that is inexpensive and accessible to more people that doesn't allow us to have the margins to pay our employees a good living wage, or we can charge a lot of money, exclude some people from dining at our establishment but be able to pay our employees a more competitive living wage. We felt like it doesn't necessarily have to be that way. We always wanted to have one day where we could kind of do whatever we wanted, serve whatever food we wanted, and have it be a different sort of feeling to welcome more people who might not be able to dine there otherwise.
We just want to just feed anybody who's hungry, so the very least that we can do is to offer food for whatever people can pay or want to pay, or if they want to eat it for free. Sunday will have a different menu, simply because our goal is to be able to feed as many people as possible, and a tasting menu doesn't really facilitate the volume that we are hoping to achieve. We will likely be doing mostly counter service to-go.
As the sommelier of HAGS, how are you working to create the pairings for the menus? Will there be different price ranges and offerings for the different menus?
Pairings are definitely highly personable. We will have pairings for the omnivore, vegan, and combination menus. My idea of queering a pairing is first thinking about people other than those who might just ordinarily order the wine pairing. I think that wine is not always the best pairing for food; sometimes I think that a beer is a better pairing for a dish, or maybe it's sake or a vermouth. There are so many kinds of beverages, and I think that even my sort of education around beverages, despite being a bartender as well as a sommelier, has been very, very much focused on wine. And I want to push myself to think outside of more than just the wine box, so to speak.
Another goal of ours is to offer some non-alcoholic pairings. Alcoholism and substance abuse is a big issue within the queer community and in the restaurant industry. Telly and I have lots of friends who are sober for whatever reason, and we want to make sure that those people feel like they're able to have just as much of a good time, and not have like ginger ale and coke as their two options.
Will there be cocktail offerings, or are you really just sticking to the menu pairings?
We will have a very small cocktail menu. We won't have a full spirits license because the one that we've applied for is just beer, wine, sake, cider, and basically anything that's not distilled. You can definitely make cocktails out of things that are not liquor, so the cocktail menu will be a little bit untraditional. The bartender term for these kinds of cocktails is "suppressor cocktails." And there's tons of different kinds like vermouth and sodas, a classic Spanish kind of suppressor cocktail. I love vermouth, and I think that it kind of gets a bad rap. I definitely have a soft spot for beverages that get a bad rap. I really want to try and champion things that I feel like don't get the time of day for people to reconsider.
What do you look for when you are going to a fine dining restaurant?
It's tough– there are so many different things to look for in any fine dining restaurant, but the thing I look for the most is a sort of sense of self in concept. José Andréas in D.C., for example, is a really interesting person to look into. He's a very well respected Spanish chef who founded World Central Kitchen, a disaster relief food justice organization. They are in Ukraine right now cooking and feeding a lot of people, and they've gone down to Puerto Rico. His restaurant minibar is a fun sort of "Doctor Suess-y" tasting menu, so I feel like I'm oftentimes drawn to playful restaurants that are thoughtful and intentional but also fun for guests.