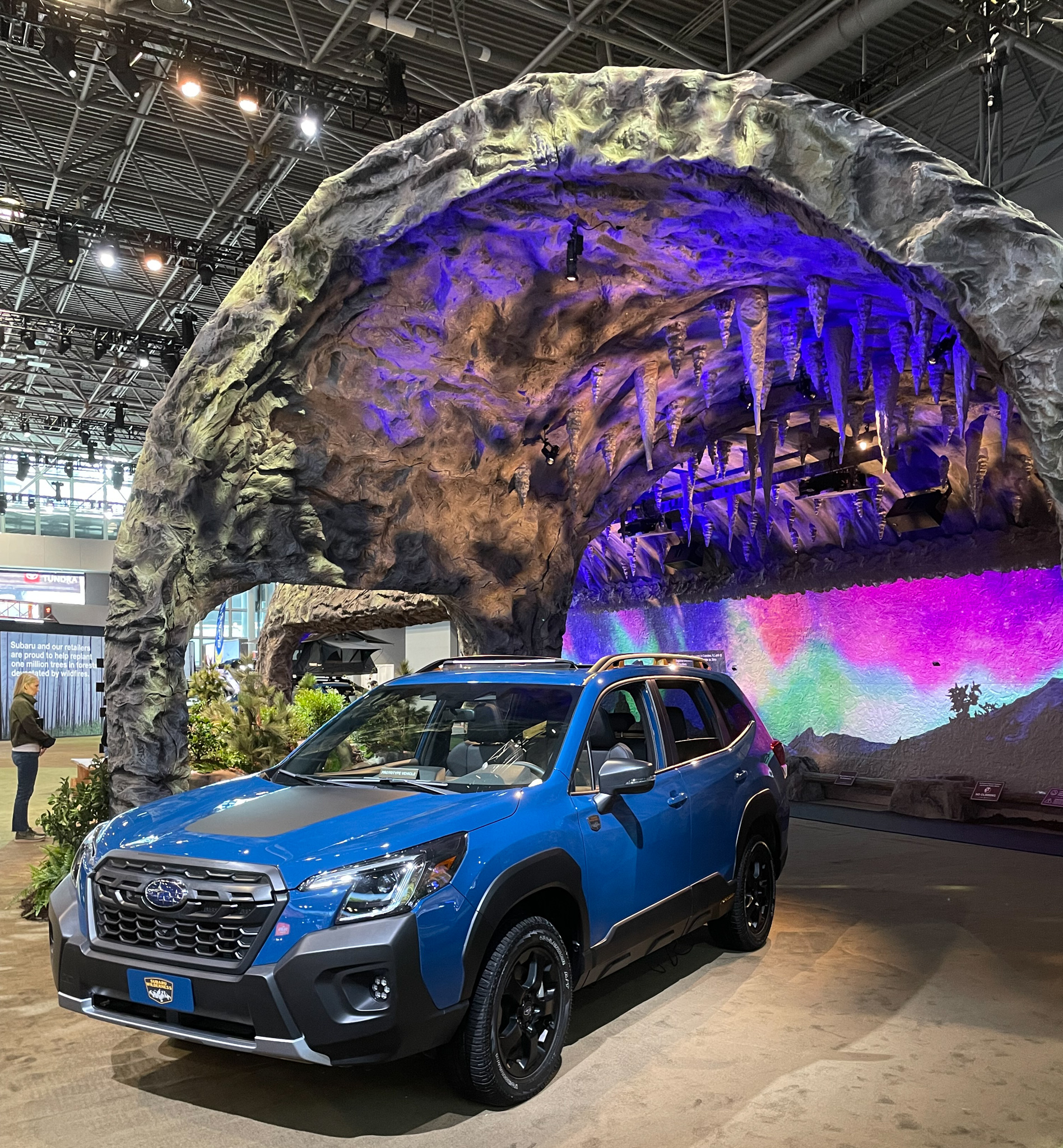 The Cars of the Apocalypse
By Tani Levitt
Read More
The future of cars is electric — or so says the New York Auto Show.
 In the days leading up to the annual auto expo at the Javits Center, my inbox was flooded with PR emails from Kia, Volkswagen, Hyundai, Nissan and more companies. They were all touting their new safe-for-the-environment cars — mostly SUVs. There were other cars at the show, but these? These cars are the future.
At the show's Electric Vehicle Test Track, traditional automakers showcased electric versions of their old models. Upstart electric-only brands like Indi and VinFast attracted long lines and car influencers with selfie sticks and production teams, eager to show face alongside the cars of the future. EV giants Tesla and Rivian were so certain the future is electric they didn't even bother sending cars or representatives.
There were traditional Instagram-worthy muscle cars touting 17 miles-per-gallon inefficiency, as well. Lincoln had cars parked atop a white carpet, Subaru had an "outdoor" exhibition, and Nissan had big-yet-squishy seven-seater SUVs next to a fake fire pit. There were also plenty of Toyotas, including a combination pickup-RV set on a frame that can barely handle the version without an RV.
The auto-show oddities continued in the basement, where the sanitation service and NYPD showed off their cars. Just one booth over from a quaint testing course for e-scooters, the sanitation service displayed an all-black monstrosity emblazoned with their emblem. Wide as a Hummer and twice as long, the intimidating machine had no stated purpose, but it made me reconsider the garbage men who serve my block. Is there a reason they should need to intimidate me?
My unease turned to concern at the next booth. A gaggle of uniformed police officers mingled at a table in front of three horrifying corrections vehicles. Coming a day after NYPD officers were unable to detain a mass shooter, I was surprised to see so many officers at a vanity event. With New York City jails endemically understaffed and unsafe, I was annoyed to see officers looking for new flashy ways to arrest people. 
The first police car was only slightly unnerving. A sedan, painted black on black, with the words "Corrections Department" barely visible from ten feet away (the better for you to not know we're coming, my dear!)  Then, one booth over, a shiny teal object that resembled an ice cream truck in miniature. Maybe ⅔ the size of a regular ice cream truck, the vehicle opened along the side, ostensibly to carry those who "need correcting". Unlike an ice cream truck, though, this truck had propellers at each of its four corners; presumably to give officers the flexibility of driving or flying away from a testy arrest. Sounds like The Handmaid's Tale. 
Flustered by the public service vehicles of war, I stepped outside to the Jeep exhibit (not electric-only). The test driver stationed there took me over staircases, up and down forty degree inclines, and around angled bends, all to show how this Jeep can traverse desert terrain. "We can stay here at a thirty degree tilt without worrying about falling over because of the Jeep's low center of gravity," my driver told me. Off-road travel is Jeep's specialty, of course, but set alongside the other cars in the show, I couldn't help but wonder when driving in the desert at a thirty degree tilt would stop being a luxury and start being a necessity. 
Cops take away your buddy and fly off in a bizarro ice cream truck? Here's the perfect car for you to flee in!  It's got 30 mpg on the highway, 22 mpg in the desert. Shit, for $45,000, that Jeep sounds like bargain bin apocalypse insurance.
Newly trained to spot concerning features in cars, I was met with more nausea back at the Hyundai EV track. Asked about his favorite features about the new all-electric Hyundai SUV, the test driver pointed to the steering wheel. "It's like in a racing car," he explained. "It can go up to 115 mph for sure on record. Off record? There's a lot more room." I drive an SUV. I take it to the grocery store, and the batting cages. If I find myself needing to ask my car for more than 80 mph, I'm in trouble. Forget about 115 or more.
As it currently stands, the world is set to be irreparably damaged within the next quarter century due to climate change. Though science has demanded radical change to prevent climate disaster since the 1970s, we are only just electrifying our national car fleet. That's why the car show insists electric is the future — it's a fait accompli, they have no choice!
But the other features of these electric vehicles suggest that the auto industry thinks disaster is on the way, even if the earth manages to keep temperatures from rising more than two degrees. If we avoid a climate change apocalypse, I'm going to need a tank-sized desert truck to run away from correction officers in a flying mystery machine.
The car industry has been wrong before (hello Nissan Cube) and I'm praying their projections of the future are wrong too, because the vision they projected at the car show scares me.