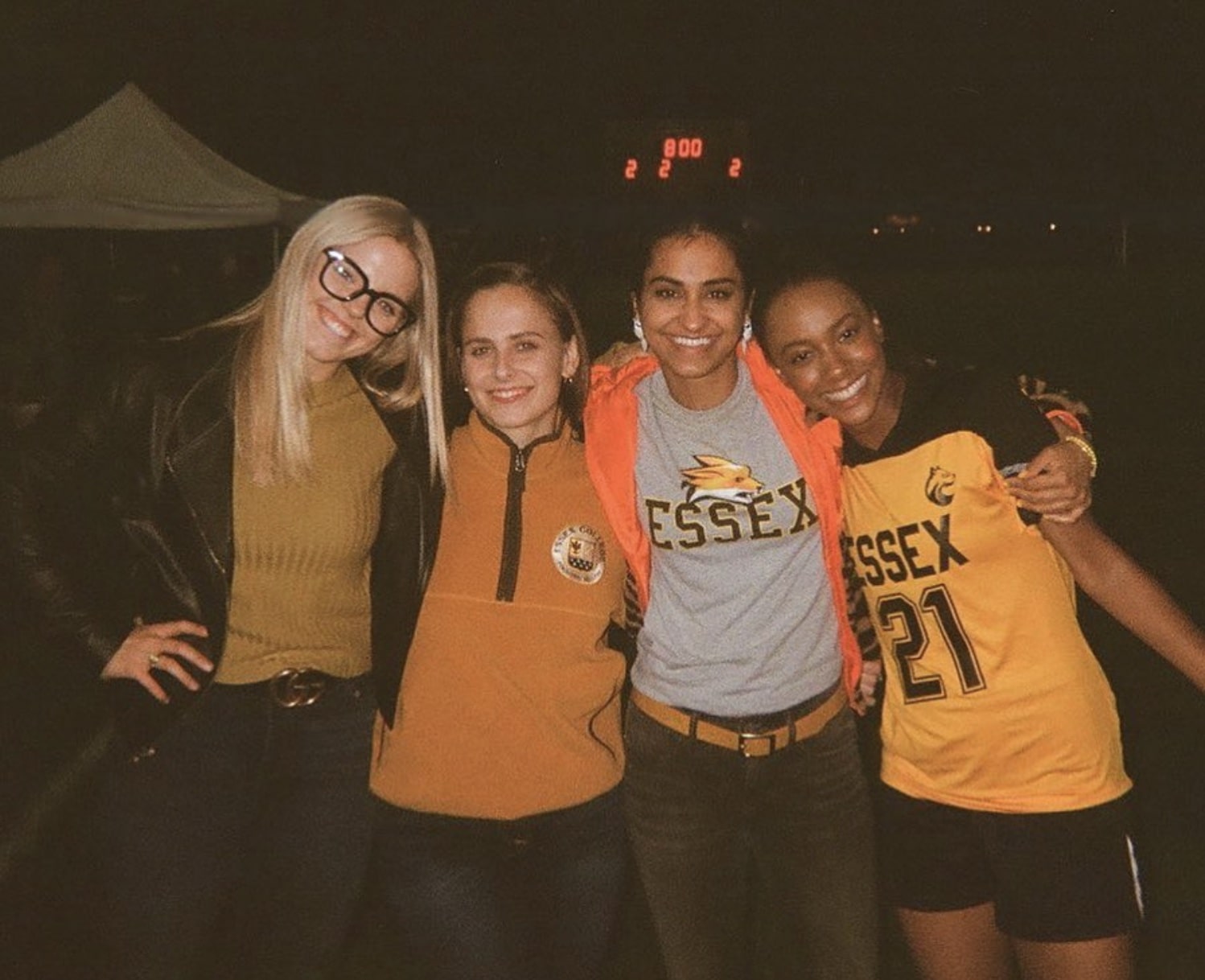 The Sex Lives of College Girls Has the Potential to Become HBO Max's Next Gen-Z Icon
By Jenna Fanelli
Read More
HBO has inarguably made a name for itself in the dramedy space. More specifically, shows that make us laugh while simultaneously dealing with serious, true-to-life issues that encourage us to deeply analyze our own character and society at large. This is certainly one of the biggest reasons for the cult following of shows like Sex and the City (1998) and Lena Dunham's Girls (2012), and the critical acclaim of Succession (2018). Of course viewers tend to relate more deeply to shows geared specifically toward their own demographic, but it seems that ultimately, few people will actively dislike a show that provides a sort of escape while still feeling relevant and making an emotional impact. Though it's only one season and ten episodes in, so far, HBO Max's The Sex Lives of College Girls does just that. 
The show takes place on the campus of the fictional Essex College, a largely non-commuter and very typical large-scale university campus located in Vermont. Our main crew comes in the form of four ladies with significantly contrasting personalities and backgrounds who end up unexpectedly sharing a two-bedroom suite on campus. When Leighton (Renee Rapp) arrives and sets the show in motion, she reacts rather poorly to meeting the other girls, having expected to be met by her 'best friends' from high school and insisting that the housing staff made a mistake. 
Born and raised in New York City and accustomed to a comfortable upper class lifestyle, Leighton is immediately a seemingly poor match with her new roomies. Kimberly (Pauline Chalamet) is a quirky, inexperienced, overly-enthusiastic girl whose family can barely afford her tuition; Bela (Amrit Kaur) is an Indian-American SNL superfan who is attending Essex specifically for its top-tier comedy writing club (the Catullan) against her parents wishes for her to enter the medical field, and Whitney (Alyah Chanelle Scott), a star soccer player and daughter of a senator. The four young women bond and stand firmly by one another as they each move through their respective journeys of self-discovery and female empowerment. 
Setting aside, though, college itself is not the focus of the series. Essentially, it is quite illustrative of the varied experiences and evolutions of people – especially modern women – gearing up to attend college, current students, recent graduates approximately within the five year window, and even Gen-Z women who don't have firsthand higher education or traditional university campus experience. The four main characters are bonded by their shared position as female students navigating a new space and lifestyle, imperfections and insecurities, and empathy and fondness for one another that stems from being forced to cohabitate. It's mainly the lack of commonalities between them that makes their dynamic group relationship so endearing. This is a concept that most 18 to late-twenty-year-olds can at least admire if not relate to, and there's a little bit of each of us in these characters, regardless of age and identity. 
Show co-creator and writer Mindy Kaling notably took part in the hit comedy The Office both as a writer and cast member for several years. The cast, especially the actors who were credited as leads, was overwhelmingly white. Throughout its nine season run, the comedy relied heavily on uncomfortable scenes of blatant sexual harrassment and jokes that perpetuate stereotypes about women, people of color, those with disabilities, and LGBTQ+ people and other minority groups. This is arguably at least partially due to the lack of diversity in the writer's room, where Kaling was one of very few non-white writers and even fewer women. 
In recent years, television has evolved and the industry as a whole has increasingly prioritized the ability to accurately mirror the demographic of each show's target audience. As co-creator and writer of Sex Lives, Kaling is now spearheading the storytelling. In regards to both the comedy and the issues the show grapples with, it's evident from the script to the cast to the characters and their experiences that Kaling is surrounded by a significantly more diverse but equally talented group of creators than she was in the past. 
Admittedly, the show is unlike Kaling's past endeavors, and she is not of the same generation as the majority of the show's fans. She says she has never personally been as sex positive as the characters in the show. She and her show collaborators made sure, then, not to repress these characters. "I wanted to do a sex-positive show with women who, even though they are very different from each other, have an unabashed attitude toward sexuality and an excitement about their adventurous lives," Kaling told the AV Club before the show premiered. "In order to do that, I needed people who had various experiences in college. We hired a mostly female, super diverse staff who were more advanced than me and Justin [Noble], and could share their lessons with us." 
When it comes to the faces in front of the camera, the first ten episodes have already introduced us to a variety of skin tones, sexualities, abilities, gender identities, ethnicities, religions and socioeconomic backgrounds, none of which the comedy relies on the expense of. For example, Amrit Kaur fully and seemingly naturally embodies the quirky, funny, sex-positive Bela. Her funniest moments and storylines do not spawn from harmful, insensitive tropes. There are no off-handed remarks about her parents' heavy accents that are meant to be jokes. 
In fact, her ethnicity is mostly a non-issue. With that said, her experience as an Indian woman in comedy isn't unrealistically perfect. She is the target of sexist and xenophobic micro-aggressions in episode four, in which a middle-aged, white male Catullan alumnus makes a speech at an event and calls her out in the audience.
 "Soon you'll be working in writers rooms with other funny guys and their marginally funny girlfriends they've hired through nepotism. But jokes aside, I think it's great that there are some female writers now, like this girl right here," he says gesturing toward Bela. "I had the chance to chat with her earlier and I honestly think that people like her are the future of comedy." Bela smiles as the other guests clap, but then he continues: "A young Indian woman? Soon she'll be the only one of us who can sell a television show – let me guess – about a quirky woman trying to balance her love life and her career. Yeah, that's compelling," he says with a sarcastic chuckle as Bela's smile fades and she turns her gaze away in obvious embarrassment. 
She's taken aback and at first doesn't respond out of fear of diminishing possible writing opportunities. She eventually summons the courage to shut her antagonist down. "You're an asshole," she boldly tells him in the center of the room as other members take notice. "I used to look up to you, but now I don't even remember why. You haven't worked in like 10 years," she says. "And you know why? Because you're not funny anymore. You're like, toxic podcast-funny at best." She sends him off by using an old popular catchphrase of his character in a skit – "Chugga chugga chugga chugga chill out" – but swaps out the last two words with "eat shit." 
Bela doesn't need to behave in a self-deprecating manner or face an onslaught of racism masked as comedy for us to laugh with (and at) her. Rather, it's her confidence, mannerisms, dramatic facial expressions, voice inflections, and quippy, awkward dialogue that we're meant to laugh at (and sometimes suffer some endearing secondhand embarrassment from). 
The show has thus far successfully situated itself as a witty, feel-good, positively female-centric hit whose production team has done the work to thoroughly depict the depth and vastness of women. It earned the title of biggest launch by an original comedy on HBO Max in 2021, received a rating of 97% on Rotten Tomatoes, and while no official release date has yet been announced, the group is currently back on set creating their much-anticipated sophomore season.
________________________________________________________________________________
Photo courtesy of @thesexlivesofcollegegirls on Instagram.